Gaming is a great pastime for many people from all different walks of life. Some people play games for leisure while others do it professionally. We all can agree that in order to game and show your talent to the best of your ability, you need great equipment. A good headset is pivotal having a great gaming experience. Whether you want to hear your enemies coming during an intense battle in COD Warzone, communicate with your friends or team mates in League of Legends or even immerse yourself into vast virtual world. These are among the best gaming headsets.
Gaming headsets can also be used as reliable everyday headphones for taking calls and listening to music. The headsets on this list have all been tested and proven to be of the best quality and the best value for your money. We believe that having good audio is one of the biggest factors to having a successful gaming experience. So we have decided to help you with your hobby by giving you some tips on the best gaming headsets to buy for 2021 and onward. We have also placed some links to some headsets on Alibaba because we know that their products are very affordable but also worth every single penny.
Some of the best gaming headsets on Alibaba.com
Amazon Best-selling Headphone Over-Ear Stereo Gamer Headphones Wired PS4 Gaming Headset with Microphone for PS4/PC
This headset starts at a price of jus 5.65 USD and comes with a variety of features that will help to enhance you gaming experience. It is a wired headphone but that does not take away from the fact that it is excellent for gaming and other daily tasks. It cancels noise very well and is also waterproof and comes in the colors Red, Blue and white. This product supports SD cards and can be used with a variety of devices such as smartphones, laptops, tablets and computers. Click here if you wish to purchase this excellent headset.
Features:
40mm dual diaphragm producing great driving power, brings you HiFi sound;
3.5mm straight plug is compatible with most smart device such as smart phone/computer/laptop etc;
Three colors available for your selection, just choose the one you like better to enjoy comfortable gaming with your friends;
Stretchable head band design, slightly adjust it to better fit for your head; with inner high elastic foam let you wear it without extra pressure;
Radiation resistance hidden volume button helps the headset avoid interuption, greatly reducing harms caused by electronic equipment to user;
Skin-friendly over head large ear muffs, made of breathable non woven fabrics and super soft high quality leather, much comfortable for your long-time wearing;
Adopting CVC noise reduction technology and with 130 degree rotation microphone, maximally reduce surrounding noise to make sure you always having clear coversation with your team mates;
Specifications:
Brand: PLEXTONE
Model: PC780
Color: Black Blue, Black Red, White Blue
Wearing Type: Over-ear
Cable Length (m): About 2.2
Technical Parameters
Microphone: Yes
Wired Control: Not support
Plug Type: 3.5mm straight
Speaker Diameter: 40mm
Microphone Diameter: 6.0 x 5.0mm
Working Current: ≤100mA
Receive Sensitivity: 104±3dB
Microphone Sensitivity: -34±3dB
Impedance: 32Ω
Frequency Response: 20Hz-20KHz
LED Working Voltage: DC5V±5%
2. Tws ANC 2020 Bt 5.0 Earphones H001 Custom Gaming Wireless Type-c Earphone Headset On-ear Headphones for PC
This Trulyplus wireless Bluetooth headphone has a price tag of a meager 39 USD and is worth way more than its actual value. I possesses active noise cancelation and is compatible with Bluetooth 5.0. It can be used with , mobile phones, computers, Dj equipment, tablets, and it can also be used as a Portable Media Player. click here to purchase this product.
Features:
H-001 ANC Active Noise Cancelling Headphones
Style
Headband
BT version
V5.0
Microphone
yes
Battery capacity
500mAh
Functional Feature
1.Active noise reduction
2.Operation range Up to 15 meters
3.Plug 3.5mm+Type-C
4.Noise reduction bandwidth 50-800HZ
5.Working time:Up to 40h(ANC),Up to 15h(BT and ANC)
3. Free Sample 7.1 Stereo Surround Sound Headphones Gaming OEM With Microphone Noise Cancelling Gaming Headset
At a price of just 24.62 USD this G9000 Pro wired headset is more than worth the price. It has a waterproof, noise canceling microphone. It can be used with computers or mobile devices. Click here to purchase this product.
Features:
Professional headset with 50mm drivers for gaming, a crystal clear mic that works perfectly in noisy environments and soft memory foam ear cushions provides lightweight comfort.
●Multi-playform compatible
●7.1 surround sound
●Noise-cancelling microphone
●Over-ear design
●Thickened memory foam earmuff
●LED Design
4. Factory Directly 3.5mm Surround Sound Noise Cancelling Headphones Gaming headset for Computer PS4 Xbox
This YIKD headset starts at a asking price of 4,50 USD and is worth way more than its asking price. It is a wireless headset with Bluetooth compatibility and a waterproof microphone. click here if you wish to purchase this product.
Features:
Item Name Electronic sports headphone headband mega bass with microphone computer earphone
Model Number GH-225
Colo rRed/blue
key function Volume control
Plug diameter:3.5mm
Type: wired earphone with microphone
Volume control: yes
Wear mode: Headband
Plug type: straight
Product length: 2.1m
Wire rod: braided cable
Material: ABS
Connect standard: suit for most of computer devices
Product advantage: with microphone function, Simple fashionable design, surround sound, wear comfortable.
OEM: support to customized logo, length, color, style as draft.
5. KIKC Headphones 7.1 Surround Gaming Earphones Accessories Boy Gaming Headset With Removable Microphone
At a price of just 6.25 USD this KIKC wired headphone is worth the price. It has a waterproof microphone and can be used with computers, smart devices and it can also be used as a wireless media player. This headphone is a great pickup for budget gaming. click here to purchase this product.
Features and comparison :
The best gaming headsets
Corsair HS70 Bluetooth gaming headset
The ability to monitor your phone (or other audio) via Bluetooth with your headset while simultaneously using a separate, lag-free connection for gaming is a useful capability, but that frequently adds a premium onto the price. By adding Bluetooth to an otherwise wired headset — usually it's only available in wireless models — Corsair manages to avoid that trap. The stereo HS70 supports USB for laptops and desktops, along with 3.5mm analog cabling to connect to all consoles.
The battery is rated for about 30 hours, and the noise-canceling microphone is detachable. The company's iCue app for Windows or MacOS to access EQ presets or adjust mic and sidetone levels. Though it's not as pricey as most gaming headsets with Bluetooth on the side, it is relatively expensive for an otherwise basic model. And oddly, the HS70 Wireless, which lacks Bluetooth but incorporates a 2.4GHz connection, is the same price.
2. SteelSeries Arctis 9X
his excellent wireless headset supports both Bluetooth and 2.4GHz connections for simultaneous lag-free gaming and audio monitoring, with a bunch of excellent perks. These include the ability to use it wired or while it charges over USB, a Discord-certified noise-canceling retractable microphone, swivel ear cups to let it sit on your shoulders, and support for DTS Headphone:X v2.0 and Windows Spatial audio.
Its pucklike dongle has an analog 3.5mm input for game audio and a line out to the headset, which expands its usefulness. My only significant quibble with the Arctis 9X is it feels a little too tight on my head (which is odd, since all the other Arctis models feel fine). Its big brother, the Arctis Pro Wireless, garners rave reviews as well, but it's significantly more expensive as well as relatively old; it's due for an upgrade and I think it's a bit overkill for many gamers, anyway.
3. Razer BlackShark V2
These aren't the absolute best in gaming headsets, but the newest generation of Razer's BlackShark headsets — the wired BlackShark V2 ($99) and V2 X ($50) and the Wireless V2 Pro ($180) — offer well-rounded option if you need a single headset for both work and play. I prefer the V2 over the V2 X for its extra PC features, like support for THX Spatial Audio, microphone settings in Razer's Synapse utility and a USB dongle. Plus, it has a better cord, removable mic with foam cover and breathable fabric on the ear cup padding. But if you're on a tighter budget, the analog-only V2 X has all your platforms covered for half the price.
4. Meters Level Up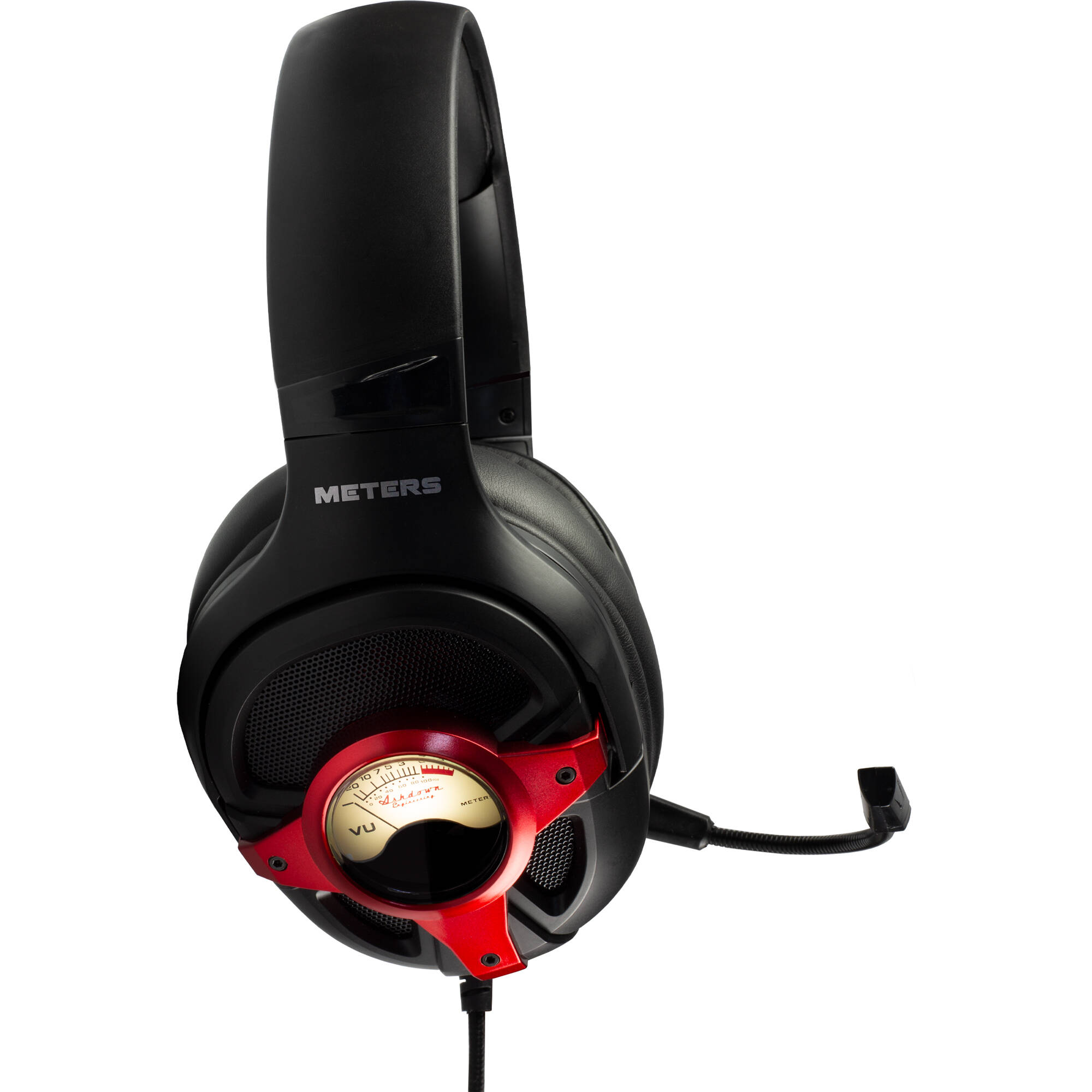 The Level Up's comfy, retro-ish style — with on-ear cup illuminated VU meters, full-bodied stereo and 7.1 virtual surround sound for music and gaming — lead me to recommend it for people who aren't necessarily looking for cutting-edge gaming features, but who want something cool and different. You can use it with any 3.5mm-jack-bearing console or system, but you don't get customizable surround setup option, unless you're connected via USB on Windows, since it requires a proprietary app.
5. Microsoft Xbox Wireless Headset
Even though it has some design and feature quirks, for $100, the Xbox Wireless Headset is a good deal. Simultaneous wireless and Bluetooth and chat-mix balance are usually only found in more expensive models, so here the performance and sound quality are worth the money. At the last update of this story, it was strangely out of stock at both Microsoft and Amazon; I left the Microsoft link in just in case it comes back.
6. HyperX Cloud 2 wireless
It's priced on the high side for a virtual 7.1 surround headset lacking in many features, but what the lightweight Cloud 2 Wireless is missing in capabilities it makes up for in comfort and performance, such as a 60-foot signal range and good battery life. You can use it wirelessly with a PS4/PS5 and Nintendo Switch as well as a PC.
7. Logitech G733 LightSpeed
Audio sounds full with punchy bass out of the box, and there's support for DTS Headphone:X 2.0 surround sound as well. You can also tune the sound with Logitech's G Hub software along with its mic performance and the bars of RGB lights on the front of each earcup.
Going beyond having different colors for the main body, Logitech made the G733's mic, earpads and head-band straps interchangeable and replaceable with other colors. Straps will be available for $10 each, and there will also be a $10 pack of five mic covers in the shapes of a star, a heart, lips, a thumbs-up and a mustache.
The headband stretches and the earcups slide up and down a bit to give you just the right fit. The headset is light, cool and cushy enough for all-day use. The pads on the earcups help with that, too. They're made from dual-layer memory foam that's soft and squishy. I've used memory foam earcups on other headsets that were just too firm, creating pressure on my head, and that's not the case with the G733. By the way, the earpads are easy to remove and replace, and the covers slip off for cleaning.
Even if you don't care about the colors and only want a straight-up good gaming headset, you won't be disappointed with the G733. That said, it's nice to see a pair that's somewhat customizable and isn't only available in black, gray or red.
8. SteelSeries Arctis 7X
Following last month's Arctis 9 launch, SteelSeries is adding a couple of new flavors to its 2020 wireless headset lineup, the Xbox and PC-compatible Arctis 7X, and the PS4 and PS5-compatible 7P. Actually, the 7X is compatible with all platforms — Xbox (through Series X and S), PC, Nintendo Switch and PlayStation (through PS5) — while the 7P won't work on an Xbox.
It all comes down to the size of your dongle. The 2.4GHz USB-C wireless dongle for the Xbox is bigger than the PlayStation's, and it has a switch to pop between PC and Xbox modes. It's the same dongle that's used by the budget Arctis 1, which launched about a year ago. Both headsets are the same as the PC-only Arctis 7, except for the USB-C connection and slightly enhanced battery life — up to 24 hours rather than 20.
9. HyperX Cloud Alpha S
This microphone works with Play Station, Nintendo Switch T.V mode, PC (connection by USB), Nintendo Switch handheld mode and XBOX. If you are looking on the market for a premium wireless headset that has great sound, feels comfortable, works well with every platform that you use and has excellent controls, this is the head set for you! The Alpha S has one of the most stylish and sturdy feeling builds of any of the headsets that we tested.
It has an all black design which consists of a solid steel frame and soft leather coated cushions. If you are looking for a bit more vibrancy and colour then there are also blue and red options that add colour and style to the ear cups and headband. The Alpha S has cushy memory foam ear cups that immediately stand out as some of the most comfortable ear cups for an headphone.
The real genius of the Alpha S lies with its controls, most headphones force you to fumble with on ear buttons and dials that you can't see but with the Alpha S this is not the case. The HyperX has a handy control panel right on the wire for adjusting the volume. The headphone's control panel can also be used for balancing game and chat levels, muting your mic or even activating 7.1 surround sound.
10. Turtle Beach Stealth 700 Gen 2
This headphone works with: Xbox, PC (Xbox model); PlayStation, Nintendo Switch TV mode, PC (PlayStation model). We tested a lot of great wireless headsets, but the Turtle Beach Stealth 700 Gen 2's robust feature set, best-in-class comfort and Bluetooth functionality put it over the top for folks looking to go cord-free. The Stealth 700 Gen 2 is more comfortable than just about every headset we tried, with thick and incredibly soft foam ear cushions that engulfed our head like a set of pillows. Better yet, these cushions are infused with cooling gel, which meant that the headset always felt cool on our ears at first touch, and never got sweaty during longer sessions.
Cozy ear cups aside, the Stealth sports a simple but premium-looking black design that's accentuated by some classy stripes of silver. This headset also sports an absolute smorgasbord of controls on the left ear, which is both a blessing and a curse.
You'll find distinct dials for overall volume as well as game/chat balance, a power button, a button for switching sound modes, a button for activating Bluetooth and a button for connecting to Xbox Wireless on our Xbox model. While it's nice having this much control at your fingertips, we constantly found ourselves adjusting the wrong volume dial or pressing the Bluetooth button when we meant to change sound modes. We eventually got the hang of things after spending more time with the headset, but we wish the controls weren't all so close together.
Fortunately, this issue is mitigated slightly by Turtle Beach's Audio Hub app for iOS and Android, which lets you customize what many of those buttons do while putting even more control at your fingertips. Here, you can program the mode button and secondary volume rocker to perform various functions, as well as activate mic monitoring or toggle chat boost to make your voice louder. You can also hop between a variety of sound modes that include Bass Boost and Vocal Boost, and toggle a noise gate to keep your voice from clipping on the mic if you get too loud. This makes the Stealth 700 Gen 2 one of the most feature-rich headsets we tested, and we found the ability to customize it right from our phones much more convenient than the PC-based apps many headsets rely on.
Even if you don't mess with many of these settings, you'll still get great audio out of the Stealth 700 Gen 2 right out of the gate. Turtle Beach's headset made an especially great companion to shooters like Overwatch, as we could clearly hear enemy footsteps coming while enjoying the bassy, satisfying sounds of gunfire and explosions.
The Stealth was even more impressive once we turned on Superhuman Hearing (which is designed to elevate specific frequencies for competitive titles), as distant footsteps and gunshots became that much clearer. The feature doesn't shine in every title — we found the default setting to be crisper in sports and fighting games but if your gaming rotation is big on Fortnite and Call of Duty, you'll get a lot of use out of it.
Wired vs. Wireless Gaming Headsets- The best gaming headsets
Headsets can be either wired or wireless, with wireless models generally costing more. More important is that each gaming headset supports different system, handheld, and computer connections. For the PS4 Pro, Xbox One X, most mobile devices, and some computers, you can use Bluetooth for a wireless headset (the original Xbox One lacks Bluetooth support). Other systems require a different wireless connection, often with a separate base plugged into your console or computer.
Bluetooth has made great strides in the last few years, but proprietary wireless connections generally offer better audio quality and a stronger signal. Proprietary wireless connections are typically designed for only one console, or one console and a PC; you'll have to choose between Xbox One and PS4 for most wireless gaming headsets.
Do You Need Surround Sound?

Most high-end gaming headsets claim to offer some form of surround sound, but this isn't accurate. The vast majority of surround sound headsets still use stereo drivers (often a single 40mm driver for each ear) to produce sound. The surround aspect comes from Dolby and DTS processing technologies that tweak how the headsets mix sound between your ears to give an impression of 360-degree audio. It's an artificial effect that wouldn't provide a true surround sound image even if the headset had individual drivers for each channel; there simply isn't enough space for the sound to resonate to produce the impression of accurate directional audio. However, it can make things more immersive and improve your ability to track the direction sounds from left to right.
Some pricey gaming headsets like the JBL Quantum One offer more immersive audio by incorporating head tracking into the mix. They still offer the same simulated surround sound as other headsets that support the feature, but they also pan and shift the audio depending on how you move your head, giving the surround effect much more realism.
Gaming Headset Console Compatibility
Because PlayStation 4 and Xbox One headset support is mutually exclusive, you can generally choose between different versions of similar models. Currently, more headsets on this list appear to support the PS4 directly than Xbox One, but many high-end headsets come in PS4 or Xbox One versions. If a headset is marketed primarily for PC, it might work with a console over USB, but it might not support all features. Of course, any headset with a 3.5mm wired connection can work with either console through the headset jack on the controller; it's the USB compatibility that can throw off different versions.
Check the packaging and product page to make sure the headset you want is compatible with the system you plan to use it with. There are a few console-specific headsets and variations you can consider, like the Xbox One-only SteelSeries Arctis 9X, which offers strong performance. Still, you generally won't find a "best" headset unique to a console; the top models usually have versions that work with either.
Why you need a great gaming headset
You need a good headset (or gaming headphones, if you prefer) for online gaming. Without one, you don't have a reliable way to talk trash to your enemies, and your lexicon of expletives will stagnate. Oh, and you won't be able to coordinate strategies with your friendly team or guild. Surprisingly, they're even pretty good tools for your home office.
Your choices range from basic wired earpieces and boom mics you can pick up for $20 at a drug store (or are included with your game console), to expensive, simulated surround sound, e-sports-oriented, wireless over-ear headphones available at enthusiast sites. You should get the one that fits your budget and needs. You don't need a ton of cash for a solid headset; about $50 can get you started if you don't want to jump into high-end features and connection options.
The Best Microphone for Gaming

In terms of headset microphones, we've been consistently impressed by the mics Razer puts in its higher-end Kraken and Nari headsets, along with the mics on Turtle Beach and Astro Gaming's flagship headsets. These can be pretty pricey, but if voice clarity is vital they're worth the money.
You can also consider the Antlion Audio ModMic. It's a boom mic that easily attaches to your favorite pair of headphones, and can be removed when not in use thanks to a two-piece magnetic mount. You won't get any of the gaming-specific features of dedicated gaming headsets with the ModMic (and wireless is right out), but it lets you use your beloved old cans for voice chat. Just make sure you have the right connection or adapter to use it with your preferred game platform.
Thank you for reading this blog and as always if you found it to be informative and educational then please give us a follow and while you are at it why not follow our socials for all our latest blog posts. We hope you see an headphone among the best gaming headsets that you wish to purchase Have a good one.