The Most Honourable Andrew Michael Holness,O.N,MP is a Jamaican Politian, Jamaica's current (ninth) Prime Minister and current leader of the Jamaica Labour Party. He was born on July, 22 ,1972 in Spanish Town, St. Catherine. He has been the Prime Minister of Jamaica since March, 3, 2016 and is still serving in that capacity. He became the successor to Bruce Golding when Bruce decided to resign as Prime Minister and leader of the Jamaica Labour Party in 2011. He was officially inaugurated as Jamaica's ninth Prime Minister in October of the same year.
The Most Honourable Andrew Holness,O.N,MP and his party decided to go to the polls on December 29, 2011 due to the fact that he wanted to get his own mandate from the Jamaican voters. He failed in his bid and lost to Portia Lucretia Simpson-Miller who was the head of the People's National Party which was the opposition, at the time. This loss officially made him one of the Prime Ministers with the shortest serving term in Jamaican history (with the other being Donald Sangster). The People's National Party gained 42 seats to the Jamaica Labour Party's 21 in that election.
Andrew served as opposition leader from January 2012 to March 2016. Him and his Party would win the next election when they went to the polls in March of 2o16. This win was the beginning of his second term in office and he is now serving his third term after another victory at the polls in 2020. The name Andrew Holness has been written in Jamaica's history books on more than one occasion. He is the youngest person in Jamaica's history to become elected and re-elected as Jamaican Prime Minister and also their first Prime Minister to have been born after Jamaica's independence in 1962.
The Most Honourable Andrew Michael Holness,O.N,MP and his early life
Andrew grew up in Spanish Town, St, Catherine and is a former attendee and graduate of the St, Catherine High school where he became passionate about politics and leadership. The then future Prime Minister matriculated to the University of the West Indies where he pursued a Bachelors of Science degree in Management Studies and a Master of Science degree in Development Studies.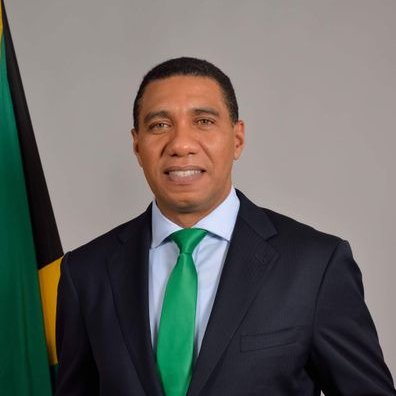 He would Marry the love of his life, Juliet Holness in 1997, she was an accountant that he met as a student at the St. Catherine High School in the 1980s.Thei union has produced 2 children ( Adam Holness and Mathew Holness). Andrew was the Executive Director at the Voluntary Organization for Uplifting children from 1994 to 1996. He joined Premium Group of companies serving as a special assistant to former JLP leader and former Prime Minister Edward Seaga. Andrew Holness has strong Christian beliefs and as a result he is a member of the Seventh Day Adventist Church.
Andrew has said on a few occasions that he always had a passion for politics and that during his years of schooling his aim was always to defend the innocent and stand up for all that is right and just. He showed his passions by entering into Jamaican politics and becoming the ninth Prime Minister of the country.
Andrew Holness's Political Career
Andrew Holness became a politician in 1997 when he was elected as the Member of Parliament for West Central St. Andrew. He served as Opposition Spokesman on Land an Development from 1999 to 2002. He switched his portfolio to housing in 2002 before he became the Opposition Spokesman on Education in 2005. He was sworn in as Minister of Education in 2007.
He was the successor of Bruce Golding, taking over the reigns as leader of the opposition and Jamaican Prime Minister on October 23, 2011. Bruce Golding had served a term clouded in controversy after the search in West Kingston for the now convicted, alleged Tivoli Gardens Don Christopher "Dudus" Coke. Bruce Golding resigned as leader of the JLP and Prime Minister because many Jamaicans lost trust in Bruce and believed it was time for fresh leadership.
Andrew Holness took the reigns as Prime Minister and leader of the opposition in October of 2011. He wanted to solidify his place as Prime Minister by proving the point that the voters wanted him in the office. It went horribly wrong on December 29, 2011 when him and his party lost the election to the PNP by 21 seats. The PNP gained 42 seats to the JLP's 21 seats.
Things were not yet over for Andrew Holness as he would once again take the reigns as Prime Minister in 2016. His recent election victory was in 2020 and this is now his third term as Jamaican Prime Minister. He is currently serving another term as Prime Minister of the island nation.
Under the leadership of Andrew Holness the JLP has accomplished many triumphs that the previous PNP administration has failed to accomplished. They have set the economy on a steady path of growth, reduced crime numbers and created more jobs which has lessoned the poverty rates. There is still alot of work to be done but they are steadily getting there.
Andrew Holness's Personality and relationship with Jamaicans
The Most Honourable Andrew Holness,O.N,MP is a very professional and down to Earth leader. He is not afraid to make tough decisions but he always explains the reason why he makes certain decisions before taking action. He is a Democratic leader but he can also become a bit Authoritarian at times. He is always polite, straight to the fact and honest about the issues plaguing Jamaican society like crime and violence, corruption among the nation's leaders, poverty and entertainment.
Andrew Holness's Companies and assets
Andrew Holness and his sons Adam and Mathew are believed to be the owners of a St. Lucian registered company, ADMAT Incorporated. The company's name was concocted based on the names of his two sons Adam and Mathew. The property the Holness family currently owns and own in Beverly Hills, St, Andrew was purchased by the company and transferred to the family. Attorney-at law Andrew Bailey witnessed the transfer of documents. The JLP leader, Andrew Holness holds 50% shares in the company and his 2 sons own the remainder with 25% shares each.
Thank you for reading this blog and if you found it to be informative then please give us a like and while you are at it follow our socials for all the latest blog posts. Have a great day!