Jamaica is a majestic Caribbean island, With its white sand beaches, lush vegetation and rich and vibrant culture, it's the perfect destination for weddings and other special events. Finding a location in Jamaica for your dream wedding can be very confusing and tiresome due to the fact that Jamaica has plenty of dream wedding destinations. You just have to find the dream destination that is right for you. and we are the experts that will help you with that! These destinations are the perfect dream destinations to have weddings in Jamaica.
A wedding is a special occasion and all special occasions require a special venue. When looking to host a wedding there are a few things that you must consider. Affordability, packages and number of guests are very important factors to consider when planning a dream wedding getaway. Location is also a very important factor due to the fact that a wedding's success mainly depends upon it's atmosphere. Whenever we picture our big day in our minds we all want it to be a day that is filled with joy and vibrancy.
There are alot of different wedding styles and each location on this list has its own unique features that makes it a great dream wedding destination. We have hooked up with a professional in the form of Stephen Hamilton who is a corporate catering consultant with years of experience in the wedding planning and catering fields. If you wish to reach out to him for more information you may contact him at Eskaycaterers@yahoo.com.
The list of Dream destinations to have weddings in Jamaica
1, VILLA SOMEWHERE
This Villa is a unique, secluded tropical getaway with private gardens that are made for the perfect wedding, pool and sundeck/jetty with a spectacular view of the Caribbean sea. This is the place to come to forget about your troubles and be pampered in lush surroundings while gazing at crystal clear blue water. SOMEWHERE VILLA is in the resort town of Ocho Rios nestled on it's own 1.5 acres of the historic Prospect Plantation estate. Surrounded by lush tropical gardens, many guests spend hours on the private sundeck/jetty overlooking the crystal clear waters with steps to the Caribbean Sea.
The décor of this spacious four-bedroom villa offers comfort and luxury. The central living area opens onto a covered veranda with outdoor seating and dining AND views of the pool and sea. SOMEWHERE's living room is large and airy, updated with new furnishings and providing all the modern comforts: Satellite TV, video/DVD, Hi-Fi, CD player, library board games, telephone and wireless broadband internet access for your BYO laptop. Two of the four air conditioned bedrooms open into the spacious living room which leads out to an extensive covered verandah. The other two bedrooms have their own small private patios with a beautiful sea view.
Just a few steps will lead you down to the private swimming pool and the clear blue waters of the Caribbean. Swimming is not recommended at Somewhere due to currents and rocks. The famous Bamboo Beach Club is located just one quarter mile away for sandy beach swimming. This location is perfect for weddings!
Address: Prospect, Tower Isle
Phone: (876) 994-1373
Appointments: prospect-villas.com
click here to view location
2.LAUGHING WATERS
Like most Caribbean island settlements, Jamaica's Ocho Rios has a history that includes indigenous tribes, European colonists, slavery and modern day tourism. When slavery was officially abolished in Jamaica in the year of 1834, the town entered a period of poverty and rebirth. With colonial interests removed, the history of Ocho Rios was crafted by the newly freed slaves, who embraced their new-found freedom and slowly turned the town into a stable and peaceful fishing village. By the late 20th century, the beautiful beaches of Jamaica had been discovered by holiday makers from North America.
Ocho Rios was no exception, quickly growing into one of the island's top beach destinations, thanks in no small part to its appealing soft sand and crystal clear water. Laughing Waters was a part of this development, popularised by its appearance in the first James Bond film, Dr. No, when Ursula Andress emerged from the sea singing. The landscape provides the perfect backdrop for that special day and is popular amongst locals and visitors for weddings. This is where Ursula Andress famously appeared as Honey Ryder, in the James Bond movie Dr No. Don't miss the property's picturesque waterfall flowing directly into the sea.
Phone: (876) 656-8446
click here to view location
3. Konoko Falls, Jamaica
Where adventure is concerned, there's no short supply in Jamaica. A vacation on this Caribbean island will ensure you're kept as busy, or as free as you'd like. For the more adventurous however, staying put probably isn't an option in Jamaica, and this is especially so for people on a family vacation. This location is the perfect wedding spot.
The big question many travelers face in Jamaica revolves around deciding where to go, or at least where to go first. If you already have things like beach time, river rafting, and even bob sledding on your agenda, what may be missing is a good ol' waterfall excursion. Even better is a waterfall tour like the one available at Konoko Falls which is multifaceted – you and the kids will be able to enjoy the falls, and also spend time at the onsite zoo, museum, aviary, and even feed the fishes in the Koi pond.
Address: Pimento Walk Main St
Phone: (876) 622-1712
click here to view location
4. Hope Gardens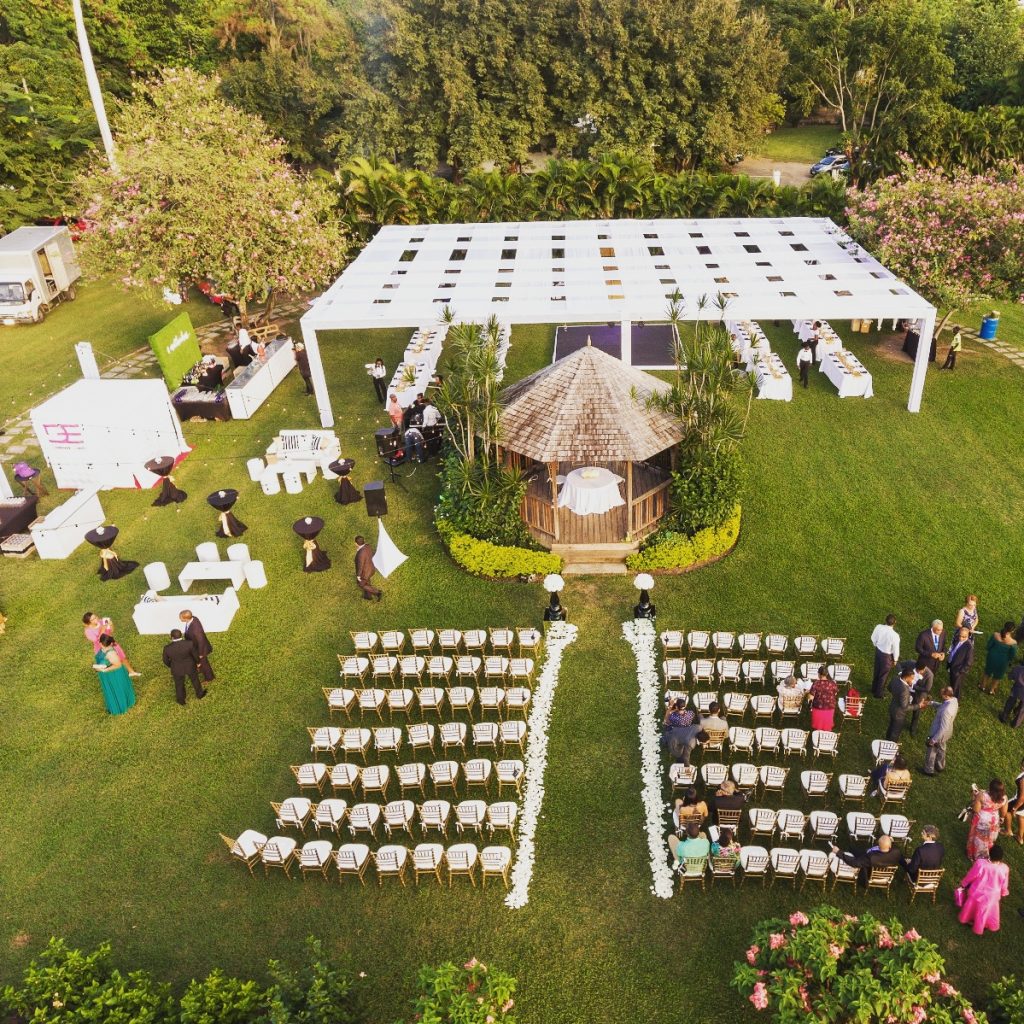 The Royal Botanical Gardens, commonly called "Hope Gardens", occupies 200 acres of land in the Ligunaea Plains of urban St Andrew. The gardens were established in 1873 on a section of land from the estate of Major Richard Hope, one of the original English colonisers who arrived with the invading force of Penn and Venables. Today the gardens are the largest public green space in the Kingston metropolitan region, and are home to Jamaica's most popular collection of endemic and exotic botanical collections. Of particular interest is the Cassia siamea grove by the main entrance, which was planted in 1907, and the other mini-gardens within the park – notably the cacti garden, with its rare varietals; the bougainvillea walk with its magnificent explosions of tropical colours; the annual gardens, with numerous species of exotic flowers; the sunken gardens and the lily pond.

Most of the plants and trees, particularly the mango and various spice species found here and in the gardens at Bath, originally came from a captured French ship on its way from Mauritius to Hispaniola in 1782. It is still highly unclear as to where exactly the plants went, but we do know that the Receiver General, one Mr Hinton East, owned and operated a garden near to the gardens at Hope. Since all cargo entering the country had to pass through his hands and be cleared by his office, it is not surprising that years after the fact, the whole collection was deposited in Mr East's garden which later was transplanted to the Hope Estate. Hope Gardens is the perfect wedding spot because of its unique feel and joyous atmosphere.

There are many rare and beautiful species of tropical plants and trees at the Royal Botanical Gardens, including the Hibiscus elatus (blue mahoe), the national tree of Jamaica. Blue mahoe is a small spreading tree with flowers that open in primrose colour in the morning and change to orange and deep red as the day advances. The Amphitheatre, where the Honourable "Miss Lou" Louise Bennett-Coverly, a famous Jamaican folklorist, poet and storyteller, used to hold Saturday morning tapings of her famous TV show, Ring Ding. The Hope Gardens occasionally hosts band concerts by the Jamaica Military Band and poetry readings.
Phone:
+1 876-927-1085 | 970-2459 | 977-7769
Fax:
+1 876-927-2888
Email:
zoobookings@hopezookingston.com
Address:
Hope Gardens, Hope Zoo, Kingston 6
click here to view location
5. Boone Hall Oasis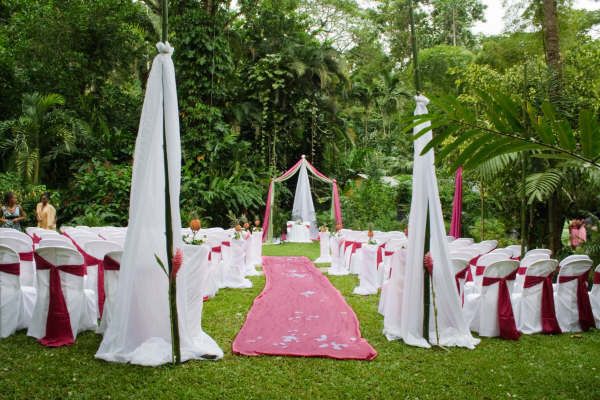 Boone Hall Oasis is located in Stony Hill, Jamaica. Company is working in Conferences, Weddings, Take Aways, Hotels business activities. Nestled below the majestic slopes of Norbrook Mountain, Boone Hall Oasis provides services with a unique experience of being one with nature. The setting is in the midst of lush tropical flora and fauna, next to the Wag Water River. Picturesque backdrops, a babbling brook and the sound of songbirds accent the proclamation of your love. From service to reception, Boone Hall provides it all.
Address: 4 River Road, Stony Hill

Phone: (876) 756-4767
click here to view location
6. Struan Castle
Imagine a breathtaking lush garden with picturesque scenery, just above the wag water river overlooking the mountains, in the cool and tranquil ambience of Stony Hill. Struan Castle Garden is a new innovative venue, botanical garden and event centre all in one. The Garden is complimented by Exotic plants and birds, tropical trees, flowing streams and walking trails where you will see Jamaica's National Bird, Fruit, and Tree and a magnificent sunset. Struan Castle Garden is an enchanting garden with a breathtaking view of the mountains, lush vegetation, flowing streams and a beautiful sunset.
Struan Castle is the perfect ambience for weddings, parties, events, anniversaries, seminars, retreats and other functions. Struan Castle provides all you need for that special occasion it will certainly be a memorable and extraordinary experience. Dove release is a great way to start or end your event. Our birds are pretty white Homing Doves, so they are ecologically safe! The y are gentle and emit a soft cooing noise. The birds come in a decorated box tailored to your theme and the photos make a great addition to your album. This is the perfect wedding venue for a dream wedding!
Tel:(876) 756-4638 or (876) 319-5434
Email:Struancastlegarden@gmail.com
Location: Bowden Hill Road, Stony Hill
click here to view location
7. Pattoo Castle
An Exquisite Jamaican Experience: Weddings & Private Parties Family-friendly Negril villa in West End, near Negril Lighthouse. Pattoo Castle is a luxury villa rental property located in the laid back town of Negril on the West Coast of Jamaica. Situated on a cliff with magnificent, unobstructed views of the Caribbean Sea, offering privacy and seclusion in a quiet and unique setting. Pattoo Villa is the perfect setting for couples, families, extended families and small groups. With this affordable daily rate shown here, your family or small group can enjoy a glorious vacation in paradise.
The newly refurbished villa features eight bedrooms each with its own en-suite bathroom and controllable air-conditioning units (except bedroom 6). The villa also features two kitchens, your personal housekeeper can prepare light breakfast or a Chef can be hired for the full duration of your stay or for a special event. Rooms open to patios. Bathrooms include showers. Recreational amenities at the villa include a water park. The recreational activities listed below are available either on site or nearby; fees may apply.
Location: Pattoo Castle West End Road, Negril, Jamaica
click here to view location
8. Belfield great house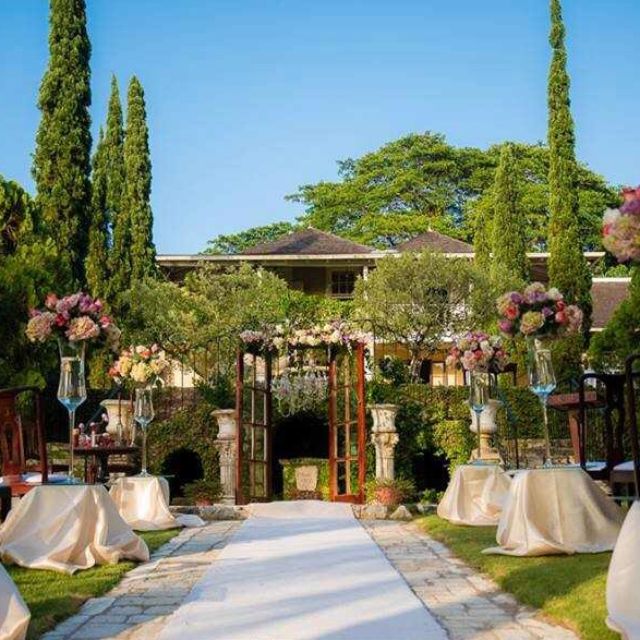 Bellefield Great House and its Estate has the distinction of being one of the oldest sugar plantations in Jamaica. This lush tropical estate sits on 10 acres of land, and for more than eleven generations has been part of the Kerr-Jarrett family holdings. The Great House was built in the 1600's as a militia outpost before becoming the official home to the Kerr-Jarrett family for seven generations.
The Great House, which has a Plantation Architectural design, boasts a sprawling verandah, jalousie windows among other symmetrical shapes indigenous to this style. The property also houses a Sugar Mill built in 1794 from cut stone directly shipped from England on the ships that were coming to Jamaica to collect their cargo of sugar and rum. The Kerr-Jarrett Family, the owners of this historic property more than eleven generations have opened up its doors, so that the public can be provided with a unique window into Jamaican History.
Bellefield Great House & Gardens
P O Box 876
Montego Bay
St James Jamaica
Fairfield,
Montego Bay
St. James,
Jamaica. WI
(876) 952-2382
(876) 601-4730
click here to view location
9. Craighton Estate
is located in Irish Town St. Andrew and owned by Japan-based Ueshima Coffee Company. The estate offers a one-hour tour featuring a walk around the working coffee farm and historic great house. Guests are schooled about the history of coffee production in Jamaica which includes a coffee-tasting session.
click here to view location
10. Strawberry Hill
is made for romance. Exceptional weddings for three to 150 guests happen here. With a choice of uniquely beautiful settings, it is no wonder that lovers have always found their way to Strawberry Hill. Discover our exclusive wedding packages and plan your special occasion on our Wedding Calendar. You may also create your very own Honeymoon Registry.
Parties, conferences and company retreats are all drawn to the charm of our mountaintop, Post-Plantation village and the breathtaking backdrop of the Blue Mountains. Our simply elegant Villas and Private Dining Rooms, each have their own special atmosphere. The dramatic Infinity Pool, with its mesmerizing view of Kingston and the Caribbean Sea situated more than 3,000 feet below. The quaint, cobbled Jadevine Courtyard, ringed by cascades of iridescent tropical blooms. The majestic lawns, where even the most experienced visitor can sense a "natural mystic" blowing through the air.
Address: New Castle Road, Irish Town
Phone: +1 800-688-7678
click here to view location
Why should I have my dream wedding in Jamaica?
Haven't been to Jamaica yet? Well, let me tell you, you need to get there! The laid back people, the flame grilled jerk chicken, the lush Blue Mountains, the white sand beaches, the Blue Mountain coffee, the mouthwatering mangos (I over indulged during my most recent stay)…are just a few of my favorite things about Jamaica. Having a destination wedding in Jamaica is even better.
Here are 8 reasons why you should have your destination wedding in Jamaica:
SCENERY
Sure there are plenty of amazing beaches, but if you're looking for something more than just a beach, this is your place. The island is lush and tropical with mountain and ocean views. Negril, is known for the famous 7 Mile Beach, which is a powdery white sand beach on clear blue waters. Montego Bay has more smaller beaches on inlets rather than one long beach lined with resort. This can be a positive if you'd prefer a more private ceremony on the beach.
INSIDER TIP: THE RESORT WITH THE MOST MOUNTAINOUS VIEWS IS SECRETS ST JAMES & WILD ORCHID.
ACCESSIBILITY
It's fairly accessible with daily direct flights from most major US cities. Southwest Airlines (my fave airline) has direct flights from Chicago a few times a week. This is a plus, since lots of people want to use their points!
Montego Bay is a short 15-30 min drive to most resorts in the vicinity. If you stay in Ocho Rios or Negril, expect your drive to be an hour to an hour and a half.
RESORTS
There are plenty of resorts to choose from for all different price ranges, amenities and styles. There are boutique properties, like Sunset at the Palms, with only 85 rooms or Secrets Wild Orchid/St James that is on the larger scale with 500+ rooms. Therefore, there's a resort for everyone!
If you're looking for an adult only resort, with no kids, you've come to the right place. Jamaica invented the adult only/ couples only resorts so they do it right and there are dozens to choose from.
Altitude, rooftop restaurant at Breathless Montego Bay
NO RESIDENCY PERIOD FOR A LEGAL DESTINATION WEDDING CEREMONY IN JAMAICA
If you want a legal wedding ceremony (where you officially get married on the island) it's one of the easiest of the islands to do so. You can be married in less than 24 hours after your arrival, providing prior application was made for a marriage license. Jamaica doesn't have a residency requirement. This means you can get married the day after you arrive! Just apply online here and submit the required documentation before you travel. And no blood test like Mexico! Easy peasy!
FOODIE'S PARADISE
Are you a foodie or just really enjoy good quality food? Well, Jamaica is the place for you! Every meal I've eaten has been pretty outstanding and I am pretty picky. Especially if you love jerk chicken! Oh, and the Blue Mountain coffee is to die for!!
INSIDER TIP: IF YOU WANT TO BRING SOME OF THE COFFEE HOME WITH YOU, BUY IT AT A LOCAL SHOP (OR ON THE HIP STRIP IN MONTEGO BAY) BECAUSE IT'S SO MUCH CHEAPER THAN AT THE AIRPORT. ON THE OTHER HAND, THE JERK CHICKEN SEASONING AND HOT SAUCE IS ACTUALLY REALLY CHEAP AT THE AIRPORT STORES.
Mr Sunshine at Zoetry Montego Bay
INSIDER TIP: GO OFF THE BEATEN PATH AND EAT AT SCOTCHIES, THE ORIGINAL JERK CHICKEN RESTAURANT.
UNIQUE CULTURE
You'll never be bored on this island, as there are so many activities to do, and not just water activities! Zip lining, food tours, appleton rum estate, cool runnings, Martha Brea rafting, horseback riding, Rasta stuff… I could go on.
Ocho Rios & Montego Bay are closer to all the adventurous activities. Where as Negril, has more beach focused activities rather than adventure. The most popular thing to do in Jamaica all over the island is to go on a catamaran cruise around the island. They're so much fun – think booze, snorkeling and jumping off a giant yacht (if you're not chicken!).
ENGLISH SPEAKING
Everyone on the island speaks English so there's no language barrier. Jamaicans do have their own slang that they speak to each other in. It's fun to listen to Jamaicans speak and try and figure out what they're saying. Some of the slang words you might hear are…
'Weh Yuh Ah Seh' = What are you saying?
'Wah Gwaan' = What's up? Or How are you?
'Irie' = Everything is alright and fine
'Ya Mon' = no problem or okay
LEGAL MARIJUANA
Hey, to each their own! If this is something you believe in, then have at it! You can smoke it legally on the beach and there are plenty of people that sell it on the island. If you use it medicinally, then even better… you'll be able to enjoy your vacation pain free!
Thanks for reading this blog and as always if you found this content to be informative and education then please give our blog a follow and while you are at it why not follow our socials for all our latest blog posts. Have a good one!