Alot of persons suffer from sensitive skin and as a result of this we have to be carefull about the products that we use that may come in contact with our skin. The anus and butuck areas are both very delicate and so we have to be careful about the types of toilet papers that we use. Some toilet papers are made from recycled materials, too course, too rough or even too soft and as a result of this it may cause mild to sivere alergic reactions in our butuck areas. Some of you may be wondering which toilet paper is best for sensitive bottoms and the answer is there are many but it is all dependent on personal peference.
Some toilet papers are made of recycled materials and as a result of this they may contain matrial that may be harmful to our skin. These brands are the ones that we should most definately avoid. Not saying that recycling is bad but as it relates to toilet paper, they shoulld all be at a certain standard. A toilet paper should be just right, not too soft, very absorbant, very durable and most importantly it should be health and environmentally friendly.
Here are 15 of the best toilet paper brands on the market:
1. Charmin Ultra Gentle Toilet Paper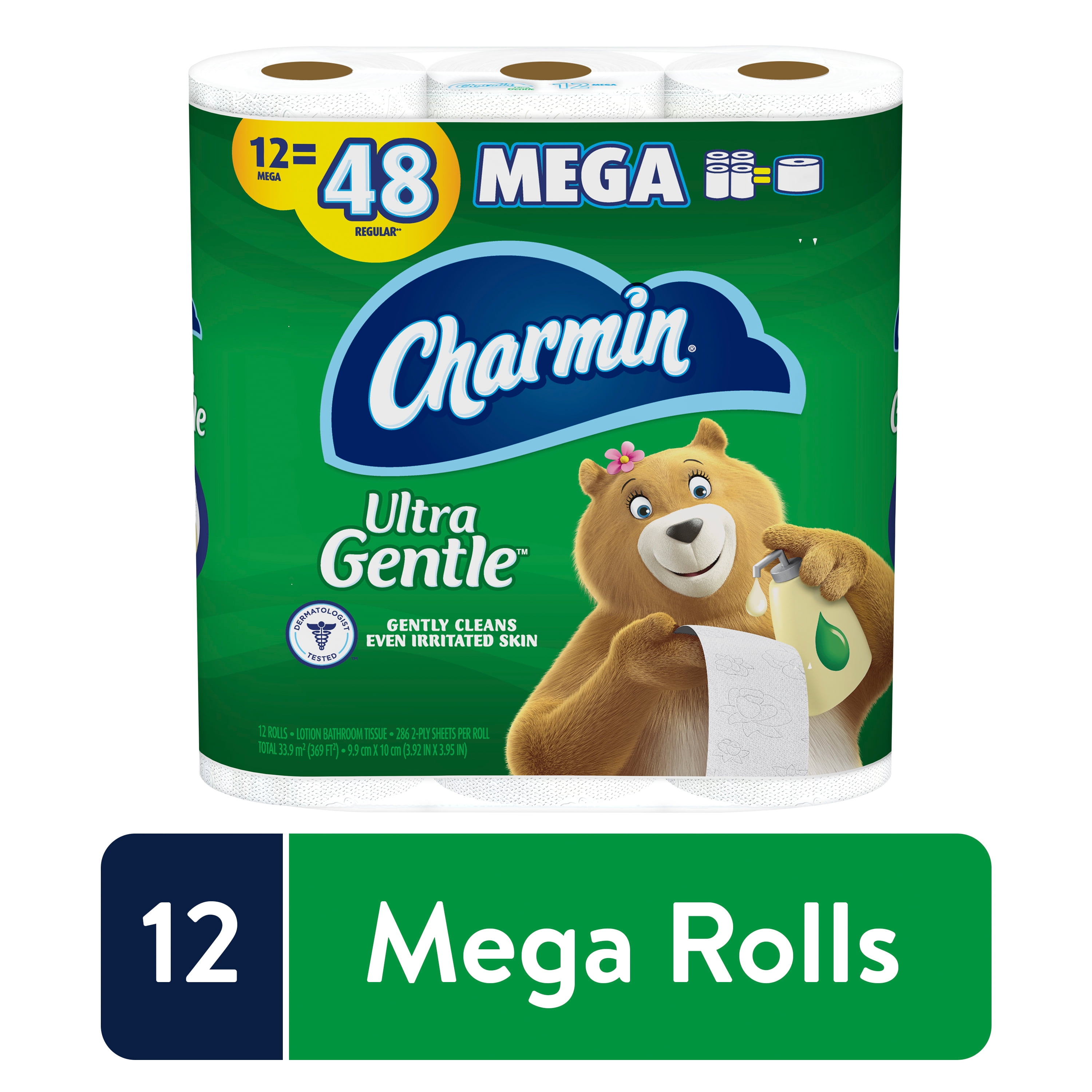 We are all looking for toilet paper with sweet soft aloe caress and Charmin Ultra Gentle is our best bet for that. For the record, it's the only toilet paper with a touch of soothing lotion.It's not as absorbent as Charmin Ultra Soft TP. Neither does it have a wash-like texture like Charmin Ultra Strong TP. However, it borrows quite a lot from both attributes. It doesn't rip apart and leaves you dry. Not to mention, it's clog-safe and as gentle as a cotton pad. Charming Ultra Gentle TP comes in mega rolls for more value. One roll equals four regular rolls, hence more savings. And with 286 sheets per roll, this toilet paper can last a long while.This 2-ply toilet paper is dermatologist tested. Not to mention, approved by residential plumbers. Hence, we can all use it with confidence.
2.Seventh Generation Unbleached Bathroom Tissue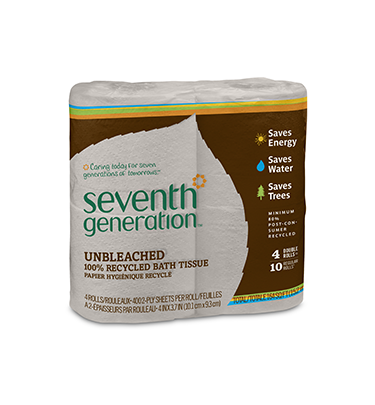 This hypoallergenic toilet paper is made of 100% unbleached recycled paper. It also uses mostly recycled paper, so it uses fewer trees and energy, and water to produce. When some people here ¨recycled¨they immediately think of coarse and rougher tissue. However, Seventh Generation has come up with a way to make this environmentally friendly toilet paper while still keeping it soft to touch and easy on our skin. Well now don't get me wrong, not all recycled personal care products are bad and this product proves that.
People with very sensitive skin due to dyes, fragrances, or softeners would find it quite convenient to use this toilet paper just as I do because it has this caressing feel while used without the chemical irritants, inks, or perfumes that can irritate your skin. Its made of roughly 80% post-consumer materials. The presence of dyes and other substances are often the main reasons why there are skin reactions to toilet paper. Seventh Generation made sure to produce this toilet paper specifically for people with very sensitive skin with this hypoallergenic, unbleached paper.
It is a two-ply tissue that is durable and cleans softly, although two-ply tissues are the least durable. The fact that it is a two-ply tissue makes it very ideal for RV's. It dissolves in water easily making it less likely to clog pipes if you live in a rural area on a septic system. It can also be used in low-flow toilets such as campers. Overall it scores high marks on softness and is a top pick for value for money which I personally recommend.
3. Aria Premium Earth Friendly-Toilet Paper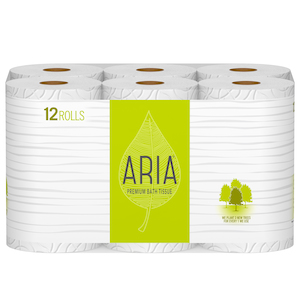 This is a thicker and stronger recycled toilet paper and you may also want to take a closer look at the premium bath tissue by Aria. It is two ply but that doesn't take away from the fact that it is one of the best as I personally believe it is. It is 50% thicker and alot more noticibly stronger than other recycled toilet paper options that are currently on the market. It is still very soft and easy on tender skin.
This product has an excelent softness factor and is non-bleached, recycled tissue. If you are used to bleached and highly processed paper- this may seem a little rough. However, it does score slightly higher on softness compared to 7th Generation. When shopping for this type of toilet paper it's often finding the balance between soft touch and the absence of dyes, bleach and fragrances that can irritate your skin. This paper by Aria scores well for softness while hitting all the marks for being irritant and chemical-free.
Aria Mega Roll have much more footage compare to standard paper rolls, each having 308 sheets of 2-ply tissue but they are still made to fit standard-sized toilet paper dispensers.One of the biggest selling points on this paper is the way that it's made. Georgia Pacific manufactures toilet paper using factories using 100% renewable, biomass power. It also plants 3 new trees for every tree they cut down. Aria is also certified by the Sustainable Forestry Initiative (SFI) to promote healthy forest practices.
4.WHOLEROLL Organic Bamboo Toilet Paper
That's right, this toilet paper is 100% made of bamboo materials! Apparently, bamboo pulp makes one of the best organic toilet papers. WHOLEROLL TP is one such product that never ceases to impress. Tighter winding makes this toilet paper a space-saver. It takes less space than other 200-sheet rolls. Nevertheless, it's 1/4-inch longer. Though a 200-sheet TP, it compares to the 220-sheet versions. Well, it doesn't end there. This toilet paper also offers two and a half times the use of regular rolls.
WHOLEROLL is a 2-ply toilet paper. But it has the softness and strength of 3-ply rolls. It's one particular feature that I think that it sets it apart from 2-ply tissue papers. This bamboo tissue has a unique advantage over other tissues. It's eco-friendly and free of chemicals. Not to mention, hypoallergenic and biodegradable. Hence, it's as safe for the septic tank as it's for sensitive skin. WHOLEROLL bamboo toilet considers future generations. It's safe for the planet and has natural healing properties. More so, it's super soft and with longer sheet size. For a green 2-ply tissue but with 3-ply features, WHOLEROLL will suffice.
5. Silk'n Soft Bamboo Toilet Paper
This is another tree-free alternative. Silk'n Soft Bamboo toilet paper is one toilet paper I suggest you try today if you have sensitive skin. It is soft and gentle on the skin and has some similarities with the virgin tree toilet paper if not more advantages. It is eco-friendly and free of chlorine. The presence of chlorine is often considered a hazard to health and the environment. t is made up of 60% bamboo, which is now being more commonly make different fabrics specifically because of its soft texture while being sturdy. The other material used is sugar cane.
6. Bim Bam Boo 2-Ply Toilet Paper
More brands in the toilet paper segment are going bamboo-style. Such is the case with Bim Bam Boo. It enters the list with a 100% bamboo toilet paper. And with a recycled TP case, it's as eco-friendly as it's safe for sensitive skin. More sheets per roll make this toilet paper stand out. Most toilet papers average at 200 sheets per roll. Well, Bim Bam Boo goes the extra mile to provide 295 sheets per roll. So, when it comes to long-lasting use, this TP ranks at the top.
More so, it's the first TP formula developed for better health. Not only is it velvety-soft, but it also has natural antimicrobial and hypoallergenic properties. As such, the chances of irritations and possible infections are zero.2-ply sheets get you more use. At the same time, they're strong and won't rip apart easily. But strong as they're, they break up easily upon contact with water. Not to mention, they're biodegradable. As such, they're clog-free toilets and safe for septic and sewer systems.
Bim Bam Boo is a certified, 100% organic bamboo toilet paper. It has more sheets per roll. Not to mention, it's the first TP formulated for better health. Hence, you can wipe away your worries regarding the environment and skin irritations. For a health-focused tissue that offers more use, Bim Bam Boo is the way to go. I believe that it is one of the best toilet papers for sensitive skin.
7. Angel Soft toilet paper
Angel soft store delivers high-quality toilet papers that do not compromise on the skin's strength and softness. Each consists of 420 + 2-ply sheets, which can easily fit in holders. It is entirely safe for use. It is dissolving toilet paper.
Features:
It provides softness and strength at a reasonable price.
The rolls can last for long as they have 425+2- ply sheets each.
You can easily flush it as it will break down with water, so it is safe for the sewer system.
This product consists of 36 mega rolls.
8. Cottonelle Ultra-soft toilet paper
Cottonelle bathroom tissue is quite soft on the skin. It has thrice thicker and twice higher absorbing power. Also, this 2-ply paper is not made using any dyes or harmful chemicals and is completely paraben-free. Thus, it does not contain alcohol, plastic and is eco-friendly.
Features:
It contains 24 family mega rolls of toilet paper. It has 325 sheets per roll.
It is a soft, 2-ply paper that is three times thicker and absorbs two times more.
This product is fully biodegradable and developed with plant-based fibers.
It is completely clog-safe and septic safe.
9. Presto toilet paper- Amazon brand
This hypoallergenic toilet paper offers excellent softness, strength, and comfort for the skin. This septic-safe paper does not leave lint behind; it is laboratory tested. Each mega roll lasts four times longer than standard rolls. It is made from sustainably managed forests.
Features:
It includes 24 mega rolls, i.e., 4 packs of 6 huge mega rolls.
It is laboratory tested that this product leaves less lint behind on the skin and is absorbent.
The paper for sensitive skin is made from pulp from forests.
You can quickly restock by asking Alexa, "Alexa, order Presto! toilet paper".
10. Quilted Northern Store toilet paper
This Quilted Northern Store toilet paper is one of the best as it does not cause a rash from the toilet paper. It is incredibly soft and strong. The roll fits in most standard bathroom holders. It is entirely eco-friendly and septic-safe to be used in traditional sewer systems.
Features:
It is ultra-gentle toilet paper and provides a comfortable clean.
This 340 2-ply toilet paper with durable layers gives comfort as well as strength.
It is flushable and safe for the standard sewer system.
This toilet paper has 24 supreme rolls of white paper, which has 340 tissue paper.
11. Charmin Ultra Soft Cushioning touch toilet paper
The next one on the list is the Charmin Ultra soft mega family roll. Charmin ultra-gentle toilet tissue has a great cushion-like touch and is 2X more absorbent than the top brand. The best part: it is big, smooth, and long-lasting.
Features:
This one pack is inclusive of 18 rolls of Charmin ultra soft sheets.
It is uniquely soft with a cushiony soft touch and more absorbent than other brands.
This product is clog-safe and septic-safe.
It keeps you away from toilet paper allergy.
One Charmin mega roll= 5+ regular rolls.
12. Scott Comfort Plus Bath Tissue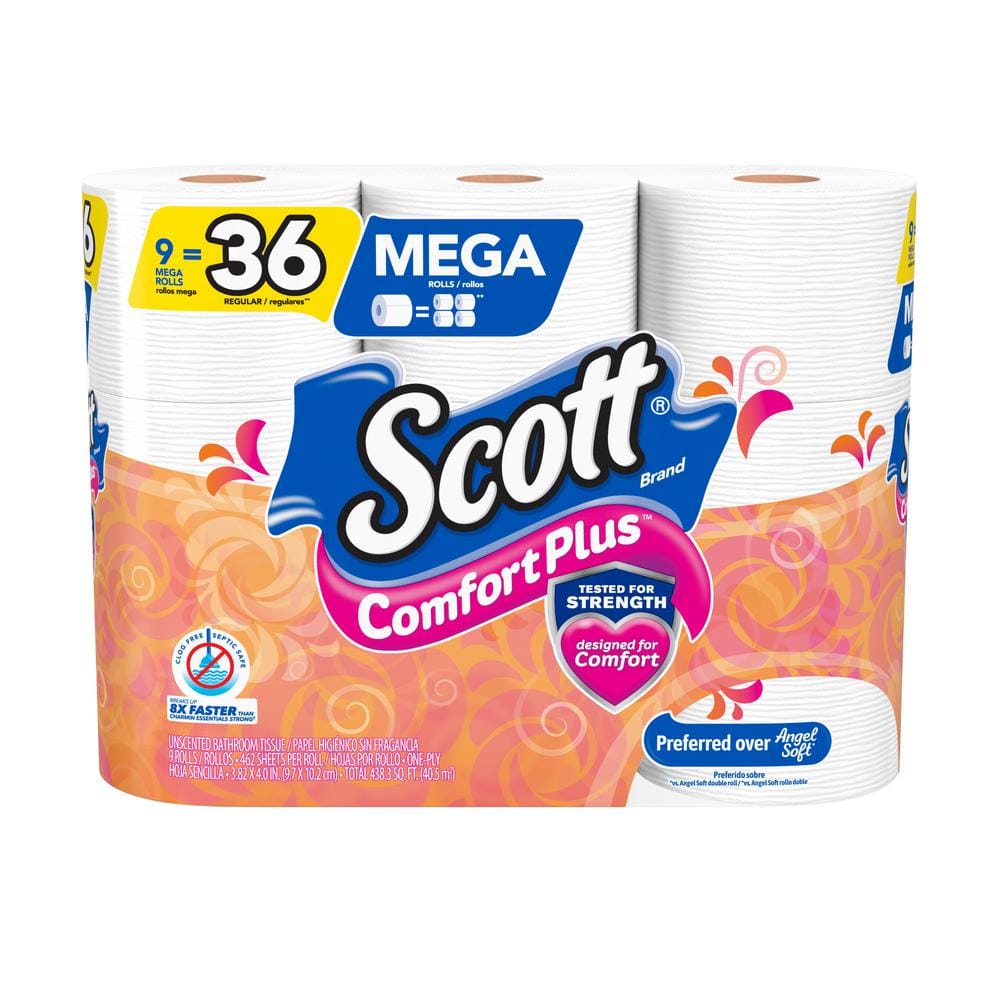 I believe that this brand of toilet tissue was built by Scott to give us comfort. It is tested and is well know for its strenght and softness. It is around 3 times stronger than all the other leading brands and also sewer and septic safe. It avoids toilet paper irritation because it is not only strong but also one of the softest brands on the market. Strenght should not mean there is a lack of softness and this brand proves that theory.
The packaging is inclusive of 12 doube roles, which is a total of 24 roles and it has a total of 231 sheets per role
Its thick and plush sheets are perfect for cleaning
This product was manufactured from sustainable forests and as a result of this it is much easier on the environment
It was tested and proven to be 3X more robust than other brands
13. Elvissmart Ultra-soft bamboo toilet paper
This fantastic eco-friendly product is made from natural bamboo pulp; it forms three soft layers. It is 3X more absorbent and thicker. It consists of 200 soft 3-ply sheets and is entirely biodegradable.
Features:
It has 3600 total sheets, which are combined in 18 rolls per case.
It is 100% eco-friendly as it is made from natural bamboo pulp.
The sheet is too soft, durable, flexible, and suits sensitive skin.
It can fit in any toilet roll dispenser and is hygienic.
14. Dude Wipes Flushable Wipes Dispenser
I know this list is suppose to be about toilet paper but this just had to be here. It'sa personal favourite! It is larger than any flushable wet wipes and has a total of 48 wipes in one package. Aloe Vera and Vitamin E are both used as soothing wetness which gives your skin a soft, clean and comforting feeling. It is also biodegradable and wildlife friendly. It;s also free of fregrances so no need to worry about your alergies when you use it or pull one from the pack.
15. Quilted Northern – Ultra Plush
In our testing, Quilted Northern – Ultra Plush triumphed as the softest and plushest of toilet papers and therefore wins as our pick for the most luxurious roll. This one is for those who pull out all the stops for ultimate softness, regardless of strength and price. Though Charmin Ultra Strong beat Quilted Northern in the user survey, our technical tests gave Quilted Northern a slight advantage in total score.
The embossed design of Quilted Northern is mottled, dimensional and finely executed. It not only looks like the nicest, it feels like it too. The fluff factor is high, and the toilet paper feels silky to the touch. Air pockets between its indulgent three plies give the roll a pleasant pushback when squeezed.
When buying toilet paper for sensitve skin there are a few things to consider:
Allergies – Some substances present in the toilet paper; like the dye, perfumes or even the material used to make the toilet paper (wood), often lead to irritation. You really need to go to a professional allergist to get a prick test done to determine what reactions you have- but a simple and affordable at-home test is to switch to one of these brands of toilet paper and see if your symptoms improve.
The number of plies – the ply count of the toilet paper has a big effect on the texture and could affect irritability. Toilet paper can range from single-ply (like camping or RV toilet paper) to plush four-ply. Toilet paper with higher ply counts is usually thicker, stronger, more absorbent, and softer. The number of ply plays is mostly a factor in touch and feel, however, a thinner rougher single-ply could be more irritating to your skin.
Chlorine – Chlorine is often used to bleach toilet paper to give it its white color. However, elemental chlorine gas leads to the production of dioxins that can harm human health and the environment. Chlorine-free toilet papers are often bleached with chlorine dioxide instead, although using other alternatives like unbleached toilet paper or bleached with oxygen or hydrogen peroxide are often preferable.
Cost – the products on this list are not the cheapest on the market. The process of making this type of paper, compared to the mass amount of conventional paper is more generally more expensive. While it's most likely going to be more expensive than traditional toilet paper, for someone suffering from an allergic reaction, the benefits can be very worth the price. Buying in bulk or using automated ordering (subscribing to monthly order on Amazon or other services) can reduce the cost quite a bit. We've also selected a more affordable option, although prices are constantly changing and would depend on where you shop.
Testing: One way to find the best match for your skin is to buy the smallest format available (usually 4 rolls) of 2 or 3 different brands, test them out (use one brand until you've finished the 4 rolls), then move to the next one to find the one that works for your preference on touch, feel and softness. Some people that really have bad skin conditions keep a log of their symptoms and jot down whether it improved or got worse with each brand. It's a relatively small investment considering how much of a difference it can make if you are suffering from skin irritation.
A more detailed explanation of what to look for:
You already read the known about the best possible sensitive toilet papers. They are best for they are providing some important features that every toilet paper company doesn't. By understanding the features and criteria, you'll have an idea about what you should consider if you haven't got the chance to buy any of them.
Number of PLY
The number of ply doesn't mean that the higher the thickness you will get, the better the toilet paper will be. For sensitive skin, you first have to ensure the better quality of toilet paper. Better quality toilet paper can have both fewer ply or lesser ply.
For counting the number of ply, it is essential to know about the ply's thickness because ply counts are related to strength absorbency. A thinner tissue paper can cause an itchy feeling. That's why you should always look higher count of the ply. If you get a higher count ply, you won't need more than ply in one sheet. For sensitive skin, a two-ply toilet paper does a great job.
Material
The next thing you should take into account before purchasing a sensitive toilet paper is, what materials they are using to produce a healthy toilet paper. The company using less human-made chemicals than natural chemical has tissue for sensitive skin.
Most of the natural tissues are made from bamboo, recycled paper, some other trees. Try to avoid tissue made with bleach, chlorine, dye, and even fragrances. These materials can cause damage to sensitive skin. If you find any ink written on the tissue paper, avoid them. Try to find a toilet paper made from hypoallergenic material.
Softness
There is no exact way of measuring the softness of toilet paper—all you can do before buying a package. You can check a single roll. By touching, you'll get an idea about the softness. It is better to avoid texture surface. They make the surface rougher. Natural ingredients help to make the surface softer. You can use bamboo made toilet tissue. If you find the paper smoother, but there's no detail about the material it is made of, it is better to avoid it.
Number of Rolls per Package
So far, we have talked about toilet paper, which is good for the skin. Now its time to think economically. Yes, heath safety is the first issue. But it doesn't mean everybody can afford to purchase hypoallergenic toilet paper at an expensive rate. The toilet paper we have talked about earlier are best because they have health safety and affordable price.
Every single-ply toilet paper should have 400 sheets per roll. If you choose to buy double-ply toilet paper, it is better to have around 250 sheets. In a regular toilet paper, you'll get 24 rolls. Hence there has a mega roll pack that offers 48 rolls.
Dermatologist approved
We all know that, every tissue paper has to be checked by a dermatologist. But sadly, many toilet tissues in the market never get recommended by a dermatologist. So before buying, check whether it is verified by dermatologist or not.
Also, there is another issue that needs to be verified. You won't find any relation with sensitive skin. It would better if the toilet paper gets checked from Ro-Rotor Plumbers because these tissues will go through your waste pipe. Those may create a blockage in the septic tank. That's why you need confirmation from the plumber's community.
Recycled Toilet Paper
You have already found a couple of toilet paper for sensitive skin coming from the recycling method. These recycling toilet papers are both excellent for your skin and environment. They are using hypoallergenic material. Besides, natural materials are dissolvable, and they won't be a reason behind diminishing wildlife. Furthermore, recycled toilet papers do not need to use bleach, chlorine, etc.
Thanks for reading this blog and as always if you found this content to be informative and education then please give our blog a follow and while you are at it why not follow our socials for all our latest blog posts. Have a good one!