The Most Honourable Juliet Holness , MP (birth name Juliet Landell) is a Jamaican politician, wife of Andrew Holness (Jamaica's current Prime Minister), a member of the Jamaica Labour Party and the MP of the constituency St. Andrew East Rural. She was born on July 16. Mrs Holness has a passion for representational politics just like her husband does. She is also a motivational speaker, author, real estate owner & agent and accountant.
Juliet Landell-Holness grew up in Ensom City, Spanish Town and was the first of six children for Stephen and Alverga Landell. She attended St. Catherine High School and later attended Wolmer's Girls for sixth form. She was apart of the Leadership Cabinet at Wolmer's and her extra curricular activities included 4-H club and Netball. Juliet Holness graduated from the University of the West Indies with a Bachelor of Science in Accounting and Economics and Post-Graduate Studies — Master of Science in Accounting. At UWI she served on the Guild of Post-Graduate students.
The Most Honourable Juliet Holness, MP the wife of Andrew Holness
Before the "fairytale marriage" that began in 1997, it became clear to Juliet Landell the moment she was approached by her then high school sweetheart Andrew Holness that she would eventually become a politician's wife. A fact that was made even more clear when the young, tall and dashing Andrew made a proposal of sorts while they were both attending The University of the West Indies (UWI). Juliet stated that "I recall he told me one day on campus 'you are going to be my wife and I intend to serve in political life, you must choose now if you are able to take on this life because serving my country is important to me'," the wife of Jamaica's ninth and youngest prime minister told the Sunday Observer. "He was very clear on his professional goals from early."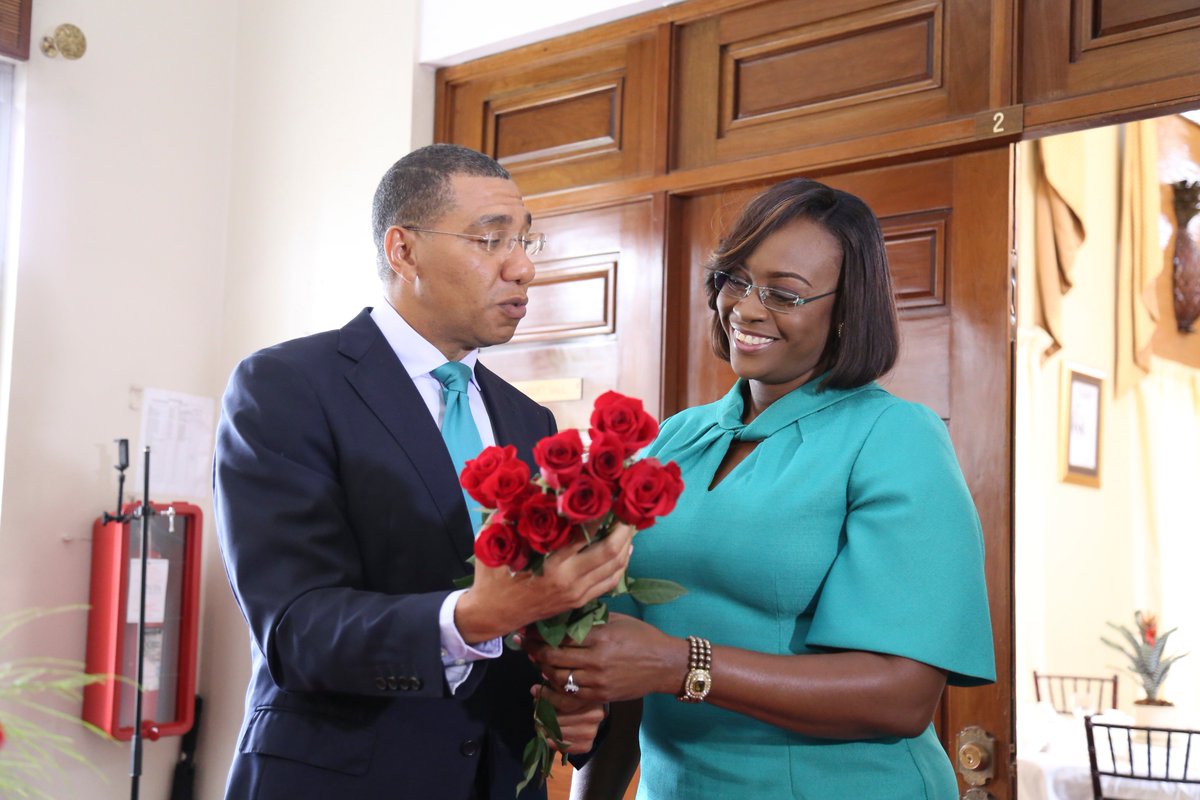 Andrew and Juliet grew up in the same community and attended the same schools together. Before the fairytale marriage that began in 1997 Andrew was and still is a gentleman to both his wife, his family and his country. He made it very clear to Juliet from very early on that he had intended to serve his country as a politician. His passion for politics and love for his homeland eventually got him elected as Jamaica's ninth and youngest Prime Minister. The two politicians have two sons together.
Juliet further stated in an interview that "Andrew and I are best friends and partners. I still find him just as charming, humorous and affectionate, 21 years later," Holness said. "He is a loving husband and wonderful father. I feel blessed to continue to share him with the people of Jamaica. I like to think of myself as Andrew's wife, whether or not he is the prime minister. But as any good wife is — supportive, honest, loving, cherishing our time together. Like most couples, we have had our differences, but we work through these differences, always with mutual respect and understanding."
Holness had a full time career as a trained accountant and also as a real estate developer at the time and she had no intention of changing that. She was a member of the Association of Certified Chartered Accountants in the United Kingdom and became a Fellow of that body. Little did she know that she would be called upon become the MP of St Andrew East Rural. This is a seat which she has maintained for 2 elections in a row.
Juliet Holness Political Career
Juliet gained a seat in Jamaica's house of representatives in 2016 and was re-elected in the 2020 general elections. She never though that she would take up the mantle and become a politician like her husband but she quickly adapted to life as an MP after years of service as a trained accountant. When Andrew was elected as the ninth Prime Minister of Jamaica him, Juliet and their family took up residence at Vale Royal which is the official residence for past and present Jamaican Prime Ministers and their immediate families.
Many seem to think that the thing that drove Juliet Holness to enter representational politics was her genuine kindness towards others. Both Juliet and her friends could recall instances of her kindness towards others. She was regarded as a "beggar's magnet" of sorts due to the fact that during her UWI years she use to walk the streets of Downtown Kingston with her friends. She would always be the sole target of beggars. "No matter where we were walking, people would never beg us," a long time friend of Juliet's said humorously. "They would always beg her."
The beggars probably sensed that The Most Honourable Juliet Holness, MP was always "ready to give". Juliet could recall one instance where she was driving through the streets of Half-Way-Tree and was approached by a man who came up to her car begging her for money. "I genuinely did not have any," she said. "So I told him I had none, I was hungry and wanted to buy a patty and did not even have the money to do that," she said. "The man said 'hold on' and gave me $100 and say 'buy two patty'," she laughed. "The next day I drove around and looked for the man and gave him $500."
Personality
Dunkley, a long time friend of Juliet Holness said that "Juliet embodies and epitomises Maya Angelou's poem Phenomenal Woman. She is fun, loving, dynamic, beautiful and brilliant inside out. She has a unique way of touching people's lives, always willing to lend a helping hand," Dunkley said. "From high school days, Juliet was always a caring, thoughtful and gracious young lady. It is a blessing to see how she has evolved throughout the years — in high school she was a former model, a scholar in university, now a wonderful wife and mother and still an outstanding friend."
She is a very jovial, frank and straightforward person who is always willing to state the facts as they are. She is a very determined and independent woman. Her concerns and heart belong to much more than just her husband, family and friends. She cares for all of her constituents and for the entire Jamaica. The Most Honourable Juliet Holness MP continues to be a beacon for young girls in Jamaica who are daring to dream big due to her hard work, kindness and determination. She is truly a role model for the younger generation!
Thank you for reading this blog and as always if you found this article to be informative and educational then please give our blog a follow and while you are at it why not follow our socials for all our latest blog posts. Have a good one!