Mercadona is a Spanish owned supermarket and grocery chain with roots in Valencia, Spain. It was founded by the Spanish couple Francisco Roig Ballester and his wife, Trinidad Alfonso Mocholi in the year 1977. The company began as a small butcher shop in a village located in Valencia. Juan Roig has been CEO of the company since 1981 and every since then the company has expanded and now has branches all over Spain. Juan oversaw a variety of companywide changes in the 1990s. He revealed the facade of Mercadona which allowed them to compete with Aa French competitor by the name of Carrefour and another competitor by the name of Eroski.
The Spanish supermarket giants have total of 1,636 stores in all the seventeen first level political and administrative divisions of Spain, Northern Portugal, Melilla and Ceuta. Mercadona was ranked as the ninth most reputable company in the world in 2009. The ranking was done by the Reputation Institute and was listed in Forbes magazine.
The company is one of the richest companies in Spain with a reported net worth of around 8,194,637,000 euros as of 2019. They are committed to the excellent service of their customers . Maradona only sells the freshest produce and the best branded foods at and affordable cost that is easy on the pockets but satisfying to the budget. The products they sell are always guaranteed to be satisfactory.
The history of Mercadona
The supermarket chain started out as a butcher shop in 1977 and expanded to eight stores in 1981 and 1,148 stores as of October 2013 with more on the way. Today it holds 13.5% of Spain's total food retail space and brought in more than €508 million in profits for the 2012 fiscal year. CEO Juan Roig plans to bring Mercadona to Italy or France but may modify his Spanish model of business to compete in the new markets. He was quoted in the Economist saying, "We must learn everything from everyone".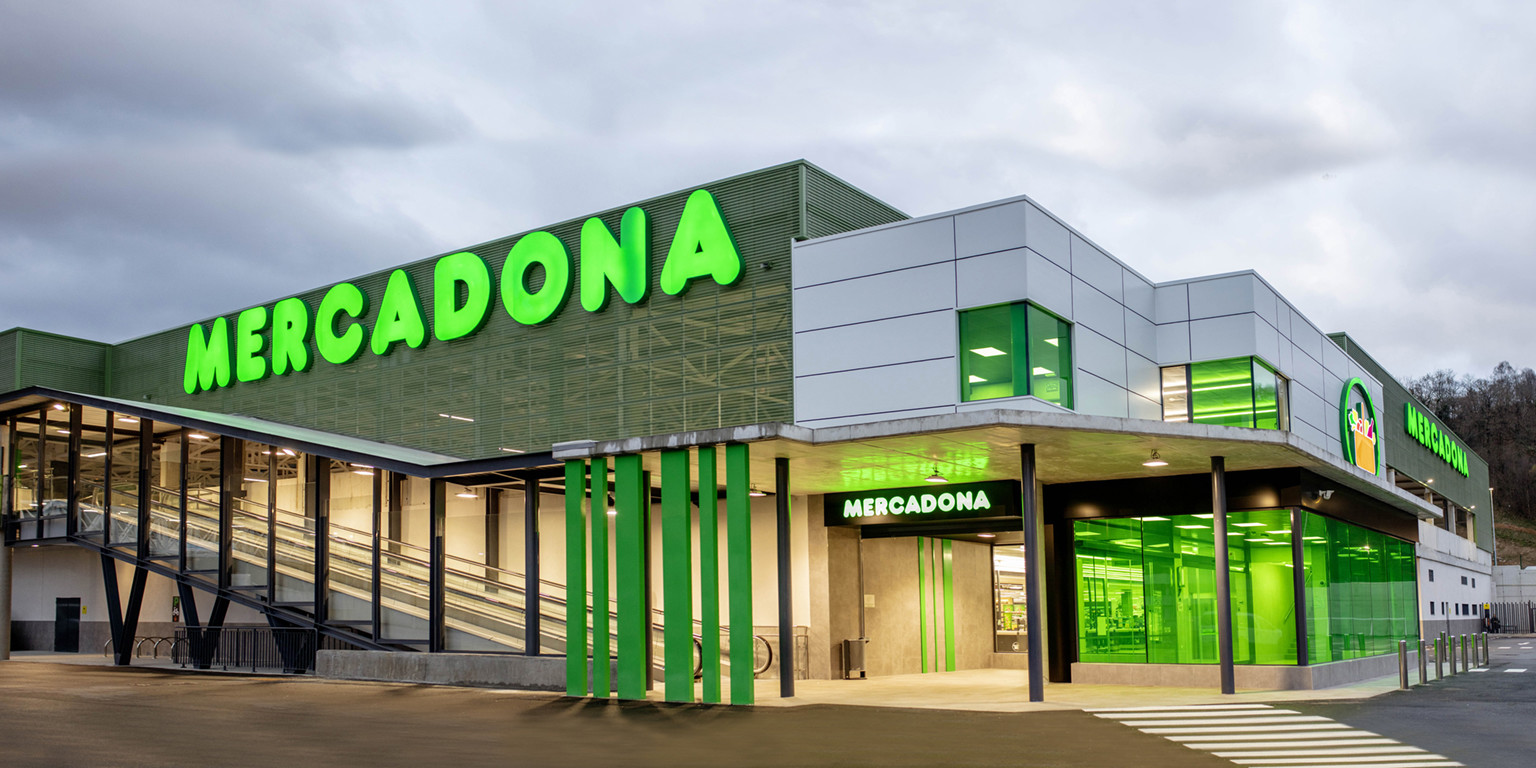 The Mercadona Management Committee approved in 2016 the start of the expansion in Portugal, the first supermarket in Vila Nova de Gaia opened their doors in July 2019.Mercadona dedicates much of its resources to eliminating unnecessary costs in its packaging. According to the Economist, the chain has saved €2.2 billion by reducing packaging materials. This included opting out of a glossy finish on packaging which company leaders deemed unnecessary, and adding a plastic lid to a can of tuna, making it easier to open and more appealing to purchase.
Mercadona does not spend capital resources on advertising or marketing campaigns, yet another method of cutting costs. It instead relies on word of mouth and free social media to promote and maintain its brand. Their Twitter, Facebook, and YouTube accounts share pictures and videos of products and company practices.
Mercadona was the first Spanish company to use barcodes in its stores. The system has since permitted increased monitoring of product movement, in addition to an increase in the speed of customer checkout times. Mercadona also has an automated distribution center, in the outskirts of Madrid, where computer monitors keep track of orders, while robot arms do all the work.
Who is Mercadona's owner Juan Roig?
Juan Roig is a Spanish billionaire, businessman and the owner and president of Spanish supermarket giants Mercadona. Roig was born o October 8, 1949 in Valencia. He studied at a Jesuit school in Valencia and later attended a boarding school . He graduated in economics at Valencia but he was not an outstanding student. Years after his graduation he studied a postgraduate degree at IESE Business School, University of Navarra.
His parents ran a total of eight butcher shops in Lo Pobla de Farnals which were later converted into grocery stores. Juan and tree of his five brothers bought the shops from his parents in 1981. He later bought out his brother's shares in the company in 1991 and went on to build and expand the Mercadona supermarket chain. He currently runs over 1600 supermarkets in and around Spain. Most of his success in retail could be credited to his risky strategy of competitive pricing and also on technological innovations like barcode scanners and automated distributer facilities.
He saw to the introduction of full time contracts for all of his employees in the late 1990s and he was also awarded the Prince Felipe Prize for Business Excellence in 2010. It is said that is net worth is around 4.3 billion USD which means that he is one of the richest men in Spain. At university he met Hortensia Herrero, and they married in 1973.They have four children, and live in Valencia, Spain. His wife is now vice-president of Mercadona. He is said to favour family ownership in business, provided that the family members contribute positively. Roig teaches at a school for young entrepreneurs on Saturdays. He plays table tennis and watches basketball.
He has been described as "shy, but a tough businessman" and as "a practical man, direct, austere, takes things seriously, his manner may appear cold if he does not trust the person he is talking to". Many aphorisms are ascribed to him, such as "in Spain we have to imitate the hard-working culture of the Chinese bazaars" and "you do not have to do a job that you like, but you have to make your job something you like doing".
Roig supports Proyecto Lanzadera through his fully owned company Alquería Capital. The organization seeks to help young entrepreneurs set up their businesses and also offers them space within the Lanzadera Business Centre, in Valencia. He also sponsors a professional basketball team, called Valencia Basket. He is a true philanthropist! The company aids many aspiring young business persons within the Valencia area and in other parts of Spain.
Thank you for reading our blog and as always if you found our content and blog to be informative and educational then please give our blog a follow and while your are at it why not follow our socials for all our latest blog posts. Have a good one!