Donald John Trump is an American media personality and businessman who previously served as the 45th President of the United States. He served in this capacity from 2017 to 2021.Donald Trump was born on June 24, 1946 . He was born and raised in Queens, New York . Trump has a net worth of around 2.4 billion USD. He took charge of his father, Fred Trump's real estate business in 1971 and renamed it to the Trump Organization. He has expanded the company's operations to building Golf courses, hotels, resorts and casinos over the years . He also started other side ventures.
Donald Trump-Early Life
Donald Trump was born at the Jamaica Hospital in the borough of Queens, New York. He is the forth child of Fred Trump and Mary Anne Macleod Trump. Trump grew up with 3 older siblings and one younger sibling in the Jamaica Estates neighbourhood of Queens and attended the private institution, Kew-Forest School from Kindergarten to the seventh grade. He later attended the New York Military Academy at the age of 13. The school is a private boarding institution. In 1964 he matriculated to Fordham University and he transferred to Wharton School of the University of Pennsylvania, two years later, graduating in 1968 with a Bachelors of Science Degree in Economics.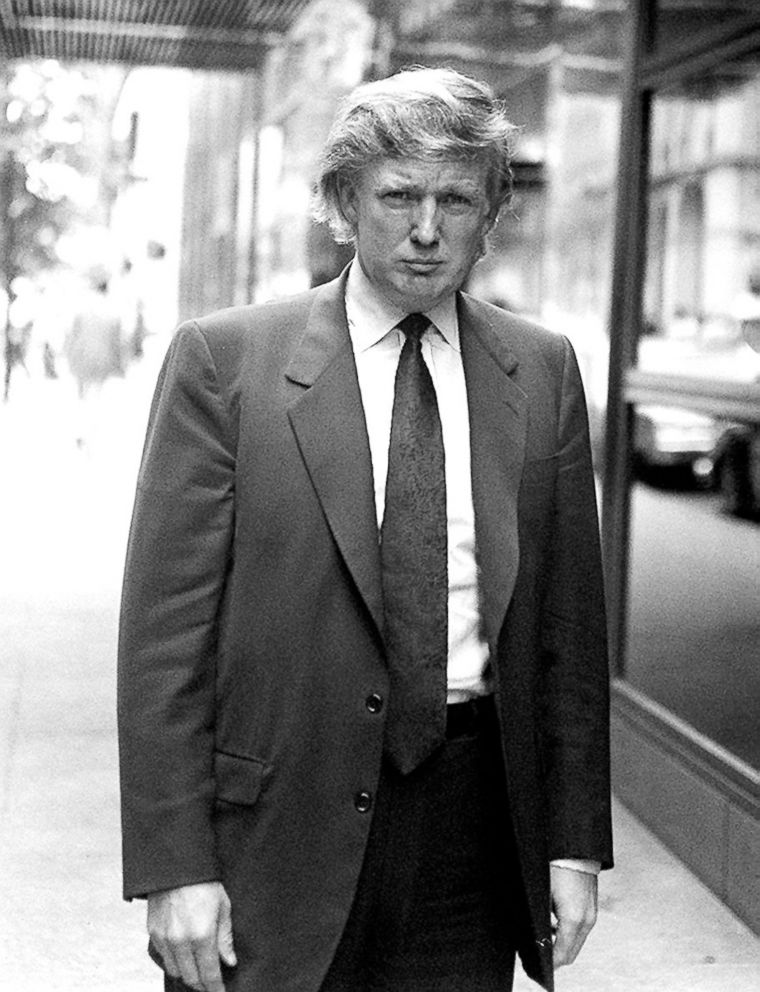 New York Times reported in 1973 and 1976 that he graduated first in his class at Wharton but he never made the school's honour role. Trump's lawyers threatened Fordham and NYMA in 2015 stating that he would take legal action if they released his school records. In 1966 Tump was deemed fit for military service based on medical examinations and in 1968 a local draft military board classified him as eligible to serve. In October of 1968 he was classified 1-Y, a conditional medical deferent and he was permanently disqualified in 1972 due to bone spurs.
Family Life
Trump married Czech model Ivana Zelníčková and their union produced 3 children. He would later Marry Marla Maples in 1993 after Ivana divorced him due to his infidelity. His union with Marla produced one daughter which Marla would eventually end up raising due to their divorce in 1999.Trump would later marry Milania Knauss in 2005 and that union has produced one son. Trump is still currently married to Milania and she served as his first lady during his presidential term.
Religious affiliations
Donald has Christian beliefs. Trump attended Sunday school and was confirmed in 1959 by the First Presbyterian Church in Jamaica, Queens. His parents joined the Marble Collegiate Church in Manhattan, which belongs to the Reformed Church. The Pastor of Marble (Norman Peale) ministered to the Trump family until he died in 1993. Trump described that the pastor was a mentor to him. The church later stated in 2015 that Trump is not an active member. In 2020 Trump stated that he classifies himself as a non-denominational Christian.
Businesses and assets
Trump worked at his father, Fred's real estate company during his college years at Wharton after leaving Wharton in 1968. The name of the company was Trump Management and the company owned middle class rental housing in New York City's outer boroughs. He would eventually become the president of the company in 1971. Donald began to use the company as an Umbrella Brand and it was registered as a corporation in 1981.
The Trump family launched their first Manhattan venture in 1978 and this attracted plenty of public attention to a then young Donald Trump. The venture was the renovation of the derelict Commodore Hotel which is adjacent to the Grand Central Terminal. It was financed by a 400 million dollar property tax abatement that was arranged by Fred Trump. Fred also joined Hyatt after guaranteeing 70 million in bank construction financing. The hotel reopened in 1980 with the new name The Grand Hyatt Hotel. Trump obtained the rights to develop Trump tower in the same year The tower is a mixed-use skyscraper in Midtown Manhattan.
The building is the headquarters of the Trump organization and was Donald Trump's primary residence until 2019. The Trump organization has vastly expanded its operations ever since its inception. They are the owners of many buildings and developments, all across America and the world
Donald Trump's Company – The Trump Organization
The Trump Organization is a group of about 500 business entities of which Donald Trump is the sole or principal owner. Around 250 of these entities use the Trump name. The organization was founded in 1923 by Donald Trump's paternal grandmother, Elizabeth Christ Trump, and his father, Fred Trump, as E. Trump & Son. Donald Trump began leading it in 1971, renamed it around 1973, and handed off its leadership to his children in 2017.The Trump Organization, through its various constituent companies and partnerships, has or has had interests in real estate development, investing, brokerage, sales and marketing, and property management.
Trump Organization entities own, operate, invest in, and develop presidential real estate, hotels, resorts, residential towers, and golf courses in various countries. They also operate or have operated in construction, hospitality, casinos, entertainment, book and magazine publishing, broadcast media, model management, retail, financial services, food and beverages, business education, online travel, commercial and private aviation and beauty pageants.
Trump Organization entities also own the New York television production company that produced the reality television franchise The Apprentice. Retail operations include or have included fashion apparel, jewelry and accessories, books, home furnishings, lighting products, bath textiles and accessories, bedding, home fragrance products, small leather goods, vodka, wine, barware, steaks, chocolate bars, and bottled spring water.
Since the financial statements of the Trump Organization's holdings and Donald Trump's personal tax returns are both private, its true value is not publicly known, though a wide range of estimates have been made. Trump has publicly released little definitive financial documentation to confirm his valuation claims. On several occasions, Trump has been accused of deliberately inflating the valuation of Trump Organization properties through aggressive lobbying of the media (in particular the authors of the annual Forbes 400 list) to bolster his perceived net worth.
Political History and Presidency
Trump has changed his political affiliation on many occasions. He first registered as a Republican in 1987. He became a member of the Independence Party in 1999. It is a New York affiliate of the Reform Party. He would also identify as a Democrat in 2001 and a Republican in 2009. He also identified as having no political affiliation in 2011 before eventually reidentifying himself as a Republican in 2012.
Trump was a candidate in the California and Michigan primaries for nomination as the Reform Party candidate for the 2000 presidential election. He would withdraw from the race in February of 2000. A 1999 poll matched him against Republican nominee George W. Bush and the likely Democrat nominee Al Gore. The poll showed that Donald Trump had 7% support.
In 2012 during speculations of the credibility of Obama's citizenship conspiracies. Trump was speculating that he would run in the presidential elections. Trump lost interest because his presidential aspirations were not taken seriously. During the 2016 campaign Hillary Clinton had a significant lead over Trump in the national polls but in July of the same year her lead narrowed in the national poll averages.
On July 15 2016 Donald Trump publicised his decision to select Indiana Governor Mike Pence as his vice presidential running mate. The two were later nominated 4 days later by the Republican Party and the Republican National convention. Trump and Clinton would face off in 3 presidential debates in September and October 2016. Trump would eventually win the election and was sworn in as the 45th president of the USA on January 20 2017. He would serve as president until the 20 January 2021 after he lost his bid for re-election to current US president and Democrat Joe Biden. His presidential term was not without controversy but he claimed that he always held the best interests of America and its citizens very dearly.
Thank you for reading and if you found this article to be informative and educational then please follow our blog and socials for all our latest blog posts.
Donald Trump and the 2020 election Controversy
A batch of emails released by the Democrats on the House Oversight Committee appears to paint a clearer picture of how former President Donald Trump and his allies attempted to pressure the U.S. Justice Department to investigate unsubstantiated claims of voter fraud in the 2020 election. The 232 pages of documents detail the unprecedented pressure campaign that Trump, along with his chief of staff and other allies, conducted to get senior officials at the Justice Department to challenge the results of the election in the face of Trump's loss to Democrat Joe Biden.
In one example, Trump directed sham claims of voter fraud to then-Deputy Attorney General Jeffrey Rosen less than an hour before the president tweeted that Attorney General William Barr — who publicly stated that there was not evidence of widespread election fraud would be stepping down and replaced by Rosen.
The newly released emails also highlight multiple conspiracy theories surrounding election fraud pushed by then-White House Chief of Staff Mark Meadows. On Dec. 30, 2020, Meadows emailed Rosen a translation of a document that alleged there was a plot in which U.S. election data was altered in Italian facilities and loaded onto "military satellites" and that Trump was "clearly the winner." After Meadows sent Rosen a YouTube link on Jan. 1 detailing the conspiracy theory, Rosen forwarded the email to then-acting Deputy Attorney General Richard Donoghue, who replied: "Pure insanity."
The cache of documents reveal that Meadows emailed Rosen multiple times to share unverified allegations of election fraud or to ask him to take steps to change the election results.
The documents also highlight how Trump used official White House channels, along with a private attorney, to hound the Justice Department to file a lawsuit in the Supreme Court with the aim of having the court declare that the Electoral College vote counts in six states that Trump lost could not be tallied. The draft complaint — circulated by Trump's White House assistant to Rosen, Donoghue and Acting Solicitor General Jeffrey Wall — requested that the court order a "special election" for president in those six states.
The release of the documents to the public comes after the committee submitted a request in late May to the Justice Department for documents related to the Trump administration's efforts to overturn the election."These documents show that President Trump tried to corrupt our nation's chief law enforcement agency in a brazen attempt to overturn an election that he lost," Chairwoman Carolyn Maloney, D-N.Y., said in a statement Tuesday. "Those who aided or witnessed President Trump's unlawful actions must answer the Committee's questions about this attempted subversion of democracy."
The Oversight Committee will hold its second hearing on the deadly Jan. 6 Capitol insurrection on Tuesday afternoon and has requested that several former Trump administration officials appear for a "transcribed interview" on the efforts to overturn the 2020 election. Those people are: Meadows; Donoghue, who served as acting deputy attorney general at the time; former Assistant Attorney General Jeffrey Clark; former Associate Deputy Attorney General Patrick Hovakimian; and former U.S. Attorney for the Northern District of Georgia Byung Jin Pak.
Trump and allies also pressured state officials in Georgia to overturn the election results there. In December 2020, Trump personally called a Georgia law enforcement official and asked her to find evidence of voter fraud, and then in early January 2021 he asked the secretary of state to "find" enough votes for him to win. In February, the Fulton County district attorney announced a criminal probe into Trump's actions to interfere with Georgia's election results.
Thank you for reading this blog and if you found it to be informative then please give us a like and while you are at it follow our socials for all the latest blog posts. Have a great day and Infoblog wishes you all the best in your endevours!