How do I create a blog? How to get started !
Creating a blog requires lots of hard work and dedication but there is no need to worry because it will all pay off in the future. Before getting started with your blog you first need to do research on all the different niche ideas that you are interested in. Some good niche ideas to consider are business, health and lifestyle. The next step mainly involves choosing the right keywords for your blog posts. More visitors will visit your blog if you are able to select the right keywords. An important aspect of blog writing is choosing the right amount of words that will accurately illustrate the message/information that you want to get across. A good way to accurately judge the amount of words that you will be using in your blog post is to look at all the front-page search results of the keywords that you are looking to use and try to write your post with around the same amount of words.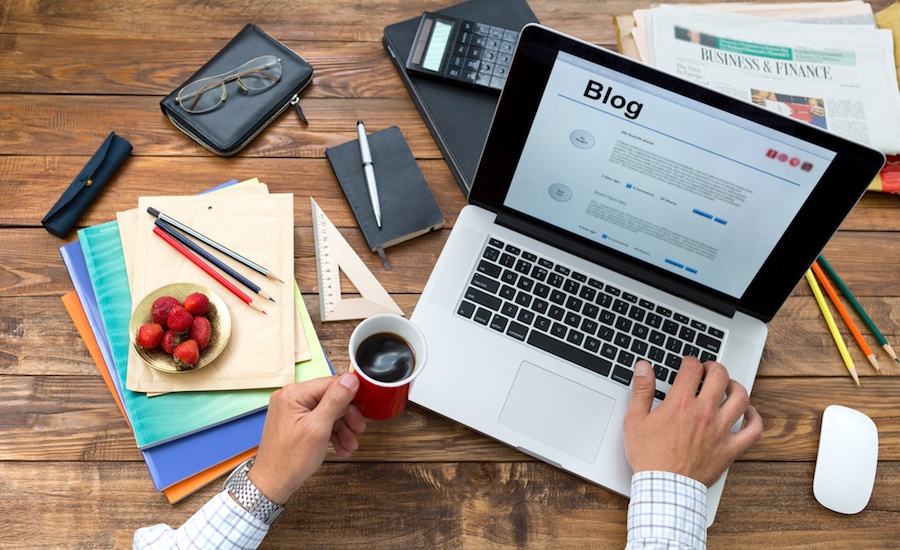 Creating a blog website
There are many ways to create blog websites but many people have the opinion that WordPress is the best way to create a blogging website. WordPress has a easy to use interface with a variety of plans to choose from. There is also another way to use WordPress for free which involves using a hosting service such as Bluehost. It all depends on what budget you have.
Some other factors to consider are:
Conduct competitive research
copy writing ideas from your best competitors
Always try to figure out what your viewers want to read about
The ultimate goal is to monetize your blog so you can earn from it
write a blog that will capture the eyes and imagination of your viewers
How to Start a blog for beginners
Thinking about starting a blog? Whether you want to blog for fun or blog for your business (because blogging is content marketing 101), everyone starts out with the exact same basics you're going to ready about in this post. I'm going to show you the exact steps you need to follow to set up a blog, no technical skills required.
Don't worry I'll walk you through every step with lots of screenshots and answer all your questions in the comments. Why should you take my advice? Because I've been blogging for a while now . I started back in 2020 on WordPress . But around a few months ago I built my own WordPress website.
I am currently working for myself as a full-time blogger, writing professionally for my own website. I get paid to blog and I love it! My journey to this point has involved a heck of a lot of work, mistakes, and figuring stuff out on my own. This is the blog post I wish I had when I started blogging a few months ago.
The Basic Steps to Starting a Blog
Setting up a blog in 2021 is so much easier than it was back in 2003, believe me! It's not difficult at all to set up a website from scratch, even with no tech know-how. There's no coding or complicated stuff required. In fact, if you follow this guide exactly, you'll have your own blog set up in under 30 minutes! Pretty cool, right?
Here are the basic steps that you'll follow:
Decide What You Want to Blog About
Choose a Blogging Platform
Choose a Web Host and Domain
Set Up WordPress
Start Using Your Blog (we'll break this into a few sections to make it easier to follow)
Just a quick note: This guide isn't just about using WordPress.com. Yes, it's one way to start blogging, but it's also severely limiting. So in this guide, I'm going to show you how to start blogging on your very own website using self-hosted WordPress. This is the approach I recommend to everyone who wants more control over how their blog looks and works.
Why Start a Blog?
Before we dive into the tutorial for starting your blog, let's back up a minute because I'm interested to know one question: Why do you want a blog? At its heart, blogging is about sharing your knowledge with the world. It's important to blog about what you are passionate about, whether it's crochet, tips for winning Agricola, scoping out the best brunch spots in your city, or smashing your competition with content marketing. Because when you write with passion, your readers are going to love reading your blog posts.
Here are some of the most popular reasons why people start a blog:
To make money. Money makes the world go round, right? I make a full-time income from blogging and so do many others—and you can too! The top bloggers in the world earn a lot of money. It takes a lot of work, writing, and dedication, but it's also easy to get started—all you need is a blog and you can get one just by following this guide!
Share your story. Having a blog gives you a platform to voice your thoughts and opinions and share your story with others around the world. Many bloggers use their blogs as a diary where they write about their daily lives and experiences.
Get exposure for your business. A blog can give you and your business no matter how big or small it is—the platform it needs to reach large numbers of potential customers for very little cost. This is known as content marketing. Many people who are experts in their fields blog as a way to share their knowledge and demonstrate thought leadership.
To become a published author. If you're a writer, starting a blog is a great first step towards becoming a published author. Blogging gives you a place to write, share your work, and build a community of readers eager to buy your books once they're published.
To connect with others. Perhaps one of the most amazing things about blogging is that it lets you connect with other like-minded bloggers all over the world. No matter what your interests are, there are blogging communities online for people just like you.
Step 1: Decide What You Want to Blog About
So, what do you want to blog about?
If you run a business, you should blog about the topics that your customers would be interested in. Even if you don't post directly about your products, by creating content that your target customers want, you can get them to learn about your brand.
Step 2: Choose a Blogging Platform
There are a ton of different blogging platforms such as Squarespace, Wix, Weebly, Joomla, and Drupal, among others. There are also new tools coming out such as Substack. But I'm going to make it easy for you: Just go with self-hosted WordPress.
Step3: Choose a Web Host and Domain Name
First things first: you need to choose a web host and a domain name.
What's a web host? Basically, when you set up a blog it needs to live somewhere on the internet. And that somewhere is a web host. Web hosts provide server space (i.e. hard drives) that can store the files that make up your blog so that it can be accessible to anyone using the web. Then, your domain name is basically your blog's permanent address on the Internet. It's what connects your visitors to your web hosting. For example, this blog you're reading now is bookingsinfoblogs.com.
Step 4: Install WordPress Using Bluehost's Tool
Now, you're ready to install the actual WordPress software on your Bluehost hosting, which means you'll have a basic working blog in just a few minutes. Bluehost makes installing WordPress super easy. After you create your account, you should be prompted to set up a new website. Or, if you don't see the WordPress installer wizard, you can always access it by going to the My Sites area in your Bluehost dashboard and clicking the Add site button.
Step 5: Choose Your Blog's Theme
Your WordPress "theme" controls how your blog looks. You can think of it kind of like your blog's clothing changing your WordPress theme won't delete your posts or mess with any of your data it will just change how everything looks to your visitors.
You'll want to choose a theme that matches your blog's niche and aesthetic, which is pretty easy because you can find thousands of free and premium themes. For example, if you're making a food blog theme, you can find dedicated WordPress themes for food blogs. The same is true for travel blogs, fashion blogs…pretty much any topic.
Step6: Write Your First Blog Post
There are still a few more housekeeping steps that you'll probably want to perform, but at this point, you're ready to publish your first blog post. To do that, go to Posts → Add New in your WordPress dashboard. That will launch the WordPress block editor, which is where you'll add content and format your blog post. To add text to your post, all you need to do is click in the text editor and start typing. If you want to add other types of content, you can click the plus icon to open the block inserter:
Step 7: Extend Your Blog With Plugins
Whereas themes control how your blog looks, plugins help you add new functionality to your blog. For example, if you want to add a contact form for readers to get in touch with you, you'll need to use a plugin for that. Plugins can also make big changes, like adding an eCommerce store to your blog (this is great if you want to sell merch in the future, but you probably don't need to add).
Step 8: Get Traffic to Your Blog
At this point, you're ready to make your blog public and start attracting visitors. Remember, Bluehost makes your site private by default, but you can make it public by going to the Bluehost area in your WordPress dashboard and clicking the Launch your site button. Getting traffic to your blog requires a whole post of its own, but there are three basic strategies that most new bloggers use to get traffic (though these are not the only ways):
Search engine optimization (SEO) – you optimize your blog posts to rank in Google. When people search for topics that you blog about, they can find your site.
Social media – you share your content on social media and/or encourage other people to share it (with the ultimate goal being to go viral or at least reach new people).
Referral – you get other websites in your niche to link to you through partnerships, guest posting, or just generally writing awesome content that they want to share with their readers.
Step 9: Monetize Your Blog
Once you start getting some traffic, you're ready to monetize your blog…if that's your goal. Of course, you don't have to monetize it if you don't want to, but there are plenty of unobtrusive ways to make money from a blog that let you earn an income without negatively affecting your readers' experiences.
For bloggers, some of the most popular ways to make money are:
Affiliate marketing – you earn a commission whenever someone purchases a product that you recommend (after clicking your special referral link).
Display ads – you can display banner ads, either using a service like AdSense or by working directly with advertisers.
Sponsored posts – brands sponsor a post on your blog (just make sure to disclose that you're being paid for the post – not only does this build trust, but it's also required in many countries).
Conclusion
Always be open to change as not everyone gets blog writing right the first time. Try to have some backup plans to fall back on if your primary niche idea fails. I wish you all the best in your future endeavours and pursuits and always remember that it's ok to fail as long as you get back up and try again. Have a good one!